I woke up this morning to the incredibly sad news that Anthony Bourdain was dead, apparently from suicide. He was found dead in his hotel room in Paris while working on his TV show. His best friend, the renowned chef Eric Ripert, was the one who found him. I can't even imagine how painful that must be.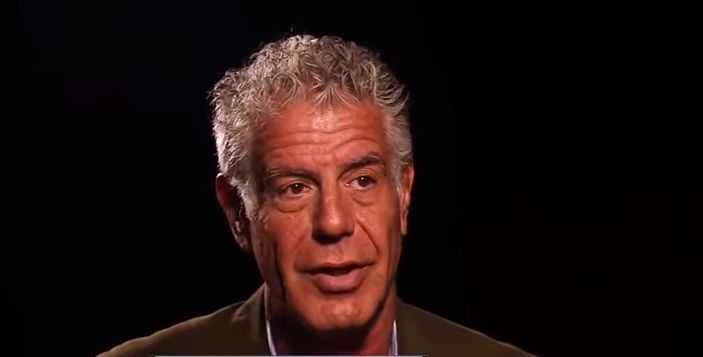 I've been a fan of Bourdain from the very beginning, way back when I first read Kitchen Confidential, the book that launched his post-chef career. He had long been the chef at Brasserie les Halles, a casual French restaurant in New York City. He was not a great chef, by his own admission. He would never have put himself in the same league with Ripert, or Daniel Boulud, or Thomas Keller. He considered himself more of a working man's chef. But he had enormous insight into the world of food and of the life of a restaurant.
Kitchen Confidential was so wildly popular in the restaurant world that he said he hardly ever paid for a meal again. From the prep cooks at the bottom of the totem pole to the celebrity A-list chefs at the top, anyone who has worked in a restaurant could see themselves in that book. He was a terrific writer and an even better storyteller. And the fact that he had overcome his demons in an industry full of people fighting their own made him all the more relatable for those who worked in food.
But what he became was so much more than that. One of the reasons why I loved Anthony Bourdain so much is that he tried to make Americans less isolationist and tribal by encouraging them to explore other cultures, get to know other people, really learn their history and their food and their problems. To listen to them. To be less fearful of them. In the current climate, that is more important than ever and he was a powerful voice pushing us to leave our ignorance about the world behind and see others as full human beings with all the same needs, desires and flaws that we have. And he did this by telling stories about their food and their traditions. He was not just good at what he did, he was a necessary figure in making us more open to new experiences and to diversity. I hope Andrew Zimmern is not depressed and is in good health because he's the other person doing that important work.
I'm not usually affected much by celebrity deaths, but Bourdain mattered to me. He united so many of my passions — food, culture, travel and writing. I will miss him enormously.