Under the school vouchers program in Florida, around a billion dollars a year is routed from taxpayers to religious schools. An investigation by the Orlando Sentinel newspaper reveals that this money is being used to teach some truly ridiculous lies and vile positions on subjects like slavery.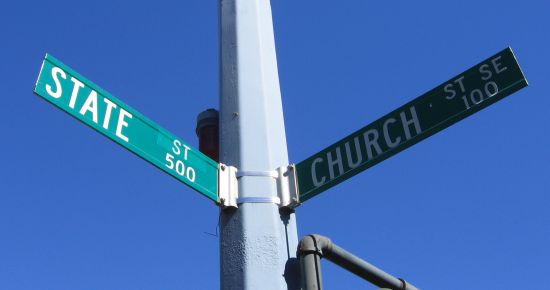 Some private schools in Florida that rely on public funding teach students that dinosaurs and humans lived together, that God's intervention prevented Catholics from dominating North America and that slaves who "knew Christ" were better off than free men who did not.

The lessons taught at these schools come from three Christian publishing companies whose textbooks are popular on many of about 2,000 campuses that accept, and often depend on, nearly $1 billion in state scholarships, or vouchers…

They found numerous instances of distorted history and science lessons that are outside mainstream academics. The books denounce evolution as untrue, for example, and one shows a cartoon of men and dinosaurs together, telling students the Biblical Noah likely brought baby dinosaurs onto his ark. The science books, they added, seem to discourage students from doing experiments or even asking questions…

The social studies books downplay the horrors of slavery and the mistreatment of Native Americans, they said. One book, in its brief section on the civil rights movement, said that "most black and white southerners had long lived together in harmony" and that "power-hungry individuals stirred up the people."

The books are rife with religious and political opinions on topics such as abortion, gay rights and the Endangered Species Act, which one labels a "radical social agenda." They disparage religions other than Protestant Christianity and cultures other than those descended from white Europeans. Experts said that was particularly worrisome given that about 60 percent of scholarship students are black or Hispanic.
The constitutional issues here are rather complex. There are two arguments that can be made here on either side. On the one hand, giving taxpayer money to religious entities seems like a clear violation of the Establishment Clause, especially when it's used to teach things that advocate very sectarian ideas, something the government is clearly forbidden from doing.
On the other hand, the voucher is not aimed specifically at religious schools. Parents get a voucher and can use it to send their kids to any kind of school, religious or secular. The fact that the money is "laundered" through parental choice does make a difference constitutionally because it's akin to someone getting public assistance and then using a portion of it to tithe at church, or buy some religious product or service. The government is not funding the religious activity directly, so that does mitigate, at least to some degree, the Establishment Clause problem.
Either way, we can be appalled by the fact that our tax dollars are used to promote vile and dishonest ideas like this.