CBS News reports that White House Press Secretary Sarah Huckabee Sanders is planning to leave at the end of the year, along with her deputy, Raj Shah. She denies it, of course. Given her track record of lying, that pretty much guarantees that it's true.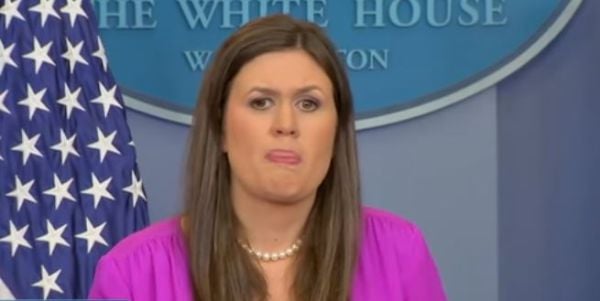 Press secretary Sarah Sanders and principal deputy press secretary Raj Shah are both heading for the exits, according to sources inside the White House and close to the administration. Sanders, who has become a confidante of President Trump since the departure of former communications director Hope Hicks, has told friends that she plans to leave the administration at the end of the year.

Shah is also considering his exit, but he has not yet settled on an exact date. Neither Sanders nor Shah responded to repeated requests for comment before this story was published. When reached Wednesday evening, both declined to comment on the record, and Sanders tweeted that she is "honored to work for @POTUS."
Her tweet didn't actually deny it, but it sure pretended to:
Does @CBSNews know something I don't about my plans and my future? I was at my daughter's year-end Kindergarten event and they ran a story about my "plans to leave the WH" without even talking to me. I love my job and am honored to work for @POTUS

— Sarah Sanders (@PressSec) June 14, 2018
But we all know she'd deny it whether it's true or false. There has been an unprecedented number of resignations and firings from the White House over the first 18 months of the administration and most of them were preceded by similar reports from sources in the administration, all of which were denied and called "fake news" by Trump, Sanders and others. At this point, a denial should be viewed as an admission.