Former Trump campaign manager Paul Manafort went to court on Friday hoping to get out of the home detention he is currently in by paying a $10 million bond. Instead, he was sent directly to jail, do not pass go, do not pay $10 million, after prosecutors showed that he had engaged in witness tampering. And the judge blasted him for it.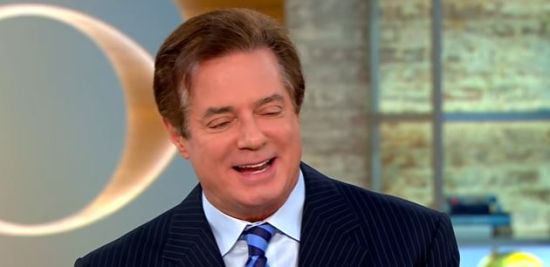 "You have abused the trust placed in you six months ago," U.S. District Judge Amy Berman Jackson told Manafort. "The government motion will be granted, and the defendant will be detained."

The judge said sending Manafort to a cell was "an extraordinarily difficult decision" but said his conduct — allegedly contacting witnesses in the case in an effort to get them to lie to investigators — left her little choice.

"This is not middle school. I can't take away his cellphone," she said. "If I tell him not to call 56 witnesses, will he call the 57th?" She said she should not have to draft a court order spelling out the entire criminal code for him to avoid violations.

"This hearing is not about politics. It is not about the conduct of the office of special counsel. It is about the defendant's conduct," Jackson said. "I'm concerned you seem to treat these proceedings as another marketing exercise."
The judge is clearly getting fed up with Manafort's antics, starting with that op-ed he wrote with Russian oligarch Konstantin Kilimnick, which he planted in newspapers under someone else's name. Everyone knows the rules in a case like this and I'm sure his attorney told him in no uncertain terms that he should have no contact whatsoever with any witnesses in the case, but he chose to not only contact them, but to tell them to use a specific narrative that is good for his defense. By doing so, he committed an entirely new crime in addition to the fraud, money laundering and tax evasion charges he is already facing.
So now he gets to sit in jail without the ability to contact witnesses until his trial, which is slated to begin next month. I suppose I could try to dredge up some sympathy, but I'm sure I would fail at it.