We've known for a long time that Stormy Daniels is not the only woman Trump paid off. Now the New York Times reports that the FBI seized a recording of Michael Cohen and Trump discussing a payoff to former Playboy model Karen McDougal, a story that had been bought by Trump's buddy at the National Enquirer and then buried. Rudy Giuliani changed his story on Trump's behalf in a matter of hours.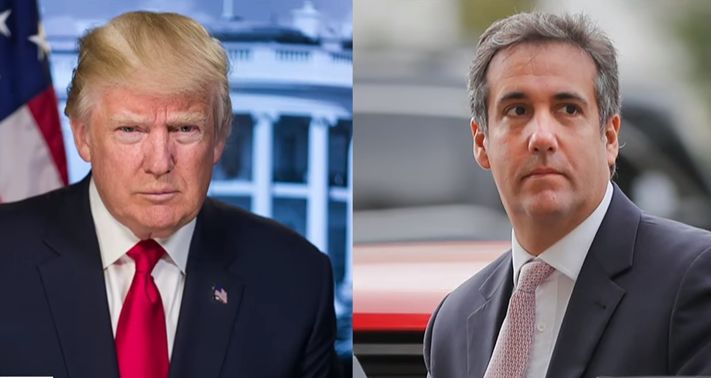 Rudolph W. Giuliani, Mr. Trump's personal lawyer, confirmed in a telephone conversation on Friday that Mr. Trump had discussed payments to Ms. McDougal with Mr. Cohen in person on the recording. He said that it was less than two minutes long and that Mr. Trump did not know he was being recorded, and he claimed that the president had done nothing wrong.

Mr. Giuliani said there was no indication on the tape that Mr. Trump knew before the conversation about the payment from the Enquirer's parent company, American Media Inc., to Ms. McDougal.

"Nothing in that conversation suggests that he had any knowledge of it in advance," Mr. Giuliani said…

Mr. Giuliani initially indicated the men discussed a payment from Mr. Trump to Ms. McDougal — separate from the Enquirer's payment — to buy her story. Later, he said Mr. Trump and Mr. Cohen had actually discussed buying the rights to Ms. McDougal's story from the Enquirer. Such a move would have effectively reimbursed the newspaper for its payments to her, though Mr. Giuliani disputed that characterization.
This probably doesn't mean any more legal jeopardy for Trump; it's not clear that he did anything illegal here at all, other than a possible campaign finance violation (and frankly, that seems doubtful, especially if the payout was never actually made). But it raises one obvious question: Who leaked this? It almost certainly wasn't anyone in the U.S. Attorney's Office for the Southern District of New York or the FBI. That leaves either Trump or Cohen and Cohen seems the far more likely choice. Why would he do that? Another shot across Trump's bow asking for a pardon, most likely.
But a pardon, while it would obviously help Cohen, wouldn't help Trump at all. The FBI and the U.S. Attorney already have all of the evidence they seized and if Cohen is pardoned, he can no longer plead the 5th. That means they can put him on the stand in any trial involving Trump and force him to testify against him, at least about everything not covered by attorney/client privilege — which means about everything illegal.
And remember, Mueller likely isn't looking to indict Trump because he doesn't think a sitting president can be indicted. What he is looking to do is build a case for impeachment and possible later prosecution by another prosecutor after Trump has left office.