Okay, so the obvious answer to why his own advisers have to treat Donald Trump as a child is because he so often thinks and acts like one, and a temperamental and impossible to please one at that. But here's a good example of it. Before the NATO summit recently, his advisers were pushing to get the final communique done before the meeting started so he would be less likely to get upset about ongoing negotiations and blow the whole thing up, like he had just done with the G-7 summit communique.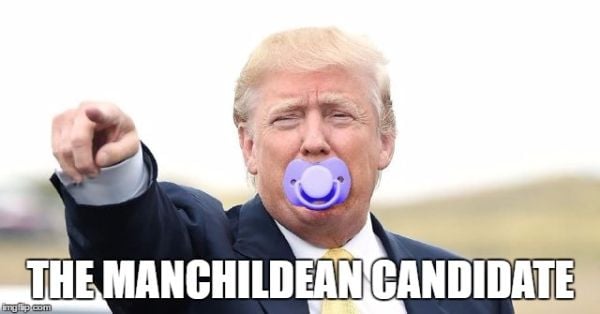 Senior American national security officials, seeking to prevent President Trump from upending a formal policy agreement at last month's NATO meeting, pushed the military alliance's ambassadors to complete it before the forum even began…

The rushed machinations to get the policy done, as demanded by John R. Bolton, the national security adviser, have not been previously reported. Described by European diplomats and American officials, the efforts are a sign of the lengths to which the president's top advisers will go to protect a key and longstanding international alliance from Mr. Trump's unpredictable antipathy.

Allied ambassadors said the American officials' plan worked — to a degree.

Mr. Trump did almost blow up the two-day meeting in Brussels that began on July 11. He issued a vague threat that the United States could go its own way if allies resisted his demands for additional military spending. After the gathering, he also questioned a pillar of the alliance: that an attack on one NATO country is an attack on all.

But the approval of the communiqué — renamed for the meeting as a declaration — was critical for the alliance. It ensured that, despite Mr. Trump's rhetorical fireworks, NATO diplomats could push through initiatives, including critical Pentagon priorities to improve allied defenses against Russia.
That communique included agreements on some matters that were very important in countering the current threat from Russia to the alliance. It approved of officially welcoming Macedonia into NATO. It created a new Atlantic Command post dedicated to coordinating a rapid response to any potential Russian aggression against NATO members. And it created what they're calling the Four 30s — 30 mechanized battalions, 30 air squadrons and 30 combat vessels, ready to be deployed in 30 days in case of a war.
Time and time again we get these reports about his advisers having to coddle and cajole and treat Trump with kid gloves to keep him from either ignoring everything out of boredom or blowing up and throwing a tantrum. They have to cut his daily intelligence briefings down to just a couple pages, with no real data, just soundbytes. It's practically a coloring book now, made necessary by the fact that he simply can't, or won't, pay attention any longer than that. They actually go on Fox News to try to influence him in one direction or another, knowing he'll be watching. They present him with a limited number of options because he's likely to choose the wrong one.
That's how bad this has gotten. We have a president who has to be handled like a spoiled child because that is exactly what he is.