Jerry Falwell, Jr. has obviously been learning the law from Liberty University Theocracy Law School. In a tweet other day he declared that AG Jeff Sessions, Deputy AG Rod Rosenstein, FBI Director Christopher Wray and others should "rot in jail" for…well, something. He doesn't say what actual law he thinks they've violated, nor, I'm quite sure, does he care. The only thing he cares about is that they haven't sold out the rule of law to his Lord and Savior, Donald Trump.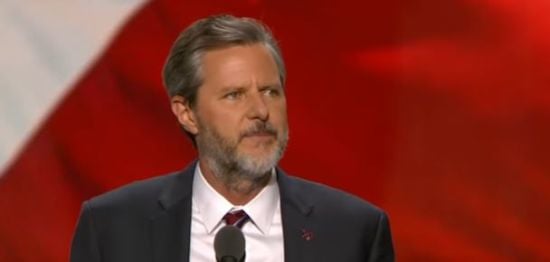 Are there any grownups w/ integrity left in the DOJ? When I was a kid, I watched Repubs join Dems to force Nixon out. Now Dems won't join Repubs to lock up Comey, Lynch, Ohr, Rosenstein, Strzok, @HillaryClinton, @BarackObama & maybe even @jeffsessions despite damning evidence!

— Jerry Falwell (@JerryFalwellJr) August 10, 2018
This led to a response from Rep. Ted Lieu:
Dear @JerryFalwellJr: The people who have decided not to prosecute the folks listed in your tweet are:

AG Sessions
Deputy AG Rosenstein
FBI Director Christopher Wray

All of them happen to be Republicans & were nominated by @realDonaldTrump & confirmed by GOP controlled Senate. https://t.co/JKM6jfjy5z

— Ted Lieu (@tedlieu) August 12, 2018
And this from Falwell:
Yep and I think they deceived @realDonaldTrump into appointing them. They should rot in the same jail

— Jerry Falwell (@JerryFalwellJr) August 13, 2018
But he only appoints the best people! And seriously, what crime does he think Sessions, Rosenstein or Wray committed? Does he think Sessions recusing himself from the Mueller investigation was somehow a crime? What crime, exactly? Does he think there's a law that says you can't do anything that might upset Donald Trump?