A New York couple paid for a tour of the Statue of Liberty, but guards told them that they had to change out of their t-shirts, which said "Abolish ICE." When the couple refused, they pulled them out of line and refused to let them in. First Amendment cases just don't get much easier than this one.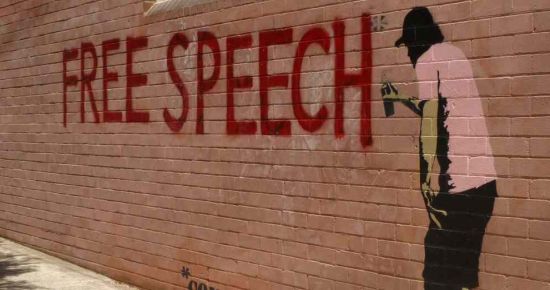 iffany Huang tells Gothamist that she'd never been to the statue before, and received tickets from her fiancé as a birthday gift back in June. In light of President Trump's family separation policy, the couple "felt we needed to acknowledge the symbolism of visiting the Statue of Liberty," says Huang. They decided to do so by wearing homemade shirts emblazoned with the "Abolish ICE" slogan.

"We did not have any plans for any other sort of action—just exercising our right to free speech," Huang added.

But when they arrived at South Ferry on July 14th to embark on the Statue Cruises tour, they were stopped by an official at the ferry's security checkpoint. "A second security person came over to tell us he couldn't let us on the tour with our shirts," recalled Huang. "He said it was our 'choice' to either change or put on clothes over our t-shirts, or leave. So we said we would rather leave, and another security person walked us back out through security."
A spokesman for the National Park Service admitted that this was a "misstep" and was clearly unconstitutional. Seriously, this is such an open and shut case of viewpoint discrimination that even Larry Klayman couldn't screw it up. I am reminded of that great scene in Dr. Strangelove here George C. Scott says, "Gentlemen, you can't fight in here! This is the war room!" You can't have liberty here, this is the Statue of Liberty!