Bob Woodward has a new book out about Donald Trump and it doesn't look like there is much in it that will be surprising to anyone with a functioning brain stem. But there are some specific revelations that confirm what we already know about Trump being unfit for (any) office because he is little more than a pathetically insecure bully with serious self-control issues. One little tidbit was that they held a practice run of Trump being questioned by Mueller to convince him that he'd just get himself in trouble if he did the interview.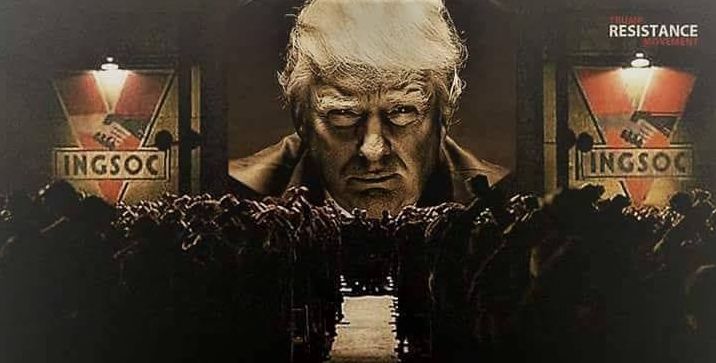 John Dowd was convinced that President Trump would commit perjury if he talked to special counsel Robert S. Mueller III. So, on Jan. 27, the president's then-personal attorney staged a practice session to try to make his point.

In the White House residence, Dowd peppered Trump with questions about the Russia investigation, provoking stumbles, contradictions and lies until the president eventually lost his cool.

"This thing's a goddamn hoax," Trump erupted at the start of a 30-minute rant that finished with him saying, "I don't really want to testify."
This, of course, clashes with Trump's ego, which believes that he is the most persuasive, compelling person the world has ever seen and that he can B.S. his way out of anything. I want that interview to take place and, like Clinton, I want the full video released so the public can watch it. Unfortunately, that seems less and less likely these days, with Mueller apparently being willing to accept written answers from Trump on at least some issues.
And then there's the fact, widely reported from the very start of the administration, that Trump's aides — you know, the people who actually know something about the world, unlike him — treat him like a child.
Again and again, Woodward recounts at length how Trump's national security team was shaken by his lack of curiosity and knowledge about world affairs and his contempt for the mainstream perspectives of military and intelligence leaders.

At a National Security Council meeting on Jan. 19, Trump disregarded the significance of the massive U.S. military presence on the Korean Peninsula, including a special intelligence operation that allows the United States to detect a North Korean missile launch in seven seconds vs. 15 minutes from Alaska, according to Woodward. Trump questioned why the government was spending resources in the region at all.

"We're doing this in order to prevent World War III," Defense Secretary Jim Mattis told him.

After Trump left the meeting, Woodward recounts, "Mattis was particularly exasperated and alarmed, telling close associates that the president acted like — and had the understanding of — 'a fifth- or sixth-grader.' "
He isn't acting like one, that is genuinely his mentality. No one can teach him anything, he is omniscient, so screw the experts. Indeed, if you claim to know more than him by trying to make him understand something, it only makes him more likely to ignore and reject your counsel because that would be an admission that he doesn't know everything and the only way he can think of to respond is by being a bully. He is that insecure and that pathetic a figure, which is why some of his aides have gone so far as to remove documents from his office to keep him from screwing something up.
White House Chief of Staff John F. Kelly frequently lost his temper and told colleagues that he thought the president was "unhinged," Woodward writes. In one small group meeting, Kelly said of Trump: "He's an idiot. It's pointless to try to convince him of anything. He's gone off the rails. We're in Crazytown. I don't even know why any of us are here. This is the worst job I've ever had."…

With Trump's rage and defiance impossible to contain, Cabinet members and other senior officials learned to act discreetly. Woodward describes an alliance among Trump's traditionalists — including Mattis and Gary Cohn, the president's former top economic adviser — to stymie what they considered dangerous acts…

Cohn, a Wall Street veteran, tried to tamp down Trump's strident nationalism regarding trade. According to Woodward, Cohn "stole a letter off Trump's desk" that the president was intending to sign to formally withdraw the United States from a trade agreement with South Korea. Cohn later told an associate that he removed the letter to protect national security and that Trump did not notice that it was missing.

Cohn made a similar play to prevent Trump from pulling the United States out of the North American Free Trade Agreement, something the president has long threatened to do. In spring 2017, Trump was eager to withdraw from NAFTA and told Porter: "Why aren't we getting this done? Do your job. It's tap, tap, tap. You're just tapping me along. I want to do this."

Under orders from the president, Porter drafted a notification letter withdrawing from NAFTA. But he and other advisers worried that it could trigger an economic and foreign relations crisis. So Porter consulted Cohn, who told him, according to Woodward: "I can stop this. I'll just take the paper off his desk."
This is our president. If that doesn't embarrass you, you must be incapable of feeling shame entirely. We elected this ignorant, bigoted buffoon in clown shoes and he has set about destroying not just good public policy, but every norm that has protected the country up to this point. It's like we searched to find literally the single worst person in the country to give power to and put him in charge. Every single key personality trait he displays — ignorance, dishonesty, fragility, bullying, a disdain for knowledge and expertise — makes him the last kind of person you would want running a 3rd shift at Taco Bell, much less the most powerful country in the world.