Lawyers for Donald Trump and Michael Cohen have told the court in the Stormy Daniels lawsuit that they will not enforce the non-disclosure agreement that came with a $130,000 payout and asked that the case be dismissed on the grounds that the matter is moot and therefore outside of the court's jurisdiction.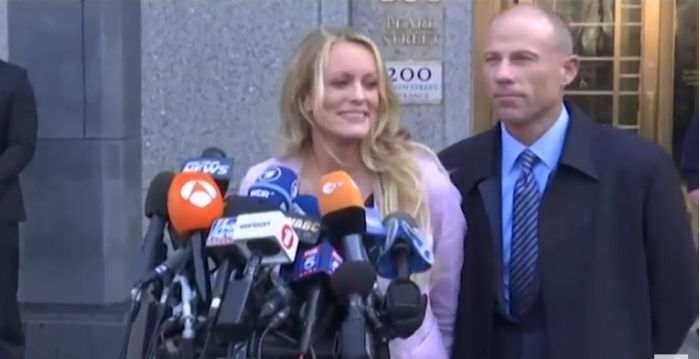 Neither President Trump nor his former attorney Michael Cohen plans to enforce the 2016 nondisclosure agreement signed by adult-film star Stormy Daniels, according to federal court documents that raised questions about the future of her main case against the president.

Lawyers for Trump stated Saturday that he "does not, and will not, contest [Daniels's] assertion" that the settlement agreement is invalid, according to a document filed with the U.S. District Court for the Central District of California. The lawyers promised that Trump "will not bring any action, proceeding or claim" against Daniels to enforce the terms of the contract.

Trump's effort to end the case, along with Cohen's move on Friday seeking to void the NDA and asking for the return of a $130,000 hush-money payment, came as Daniels's attorney Michael Avenatti continued his push to depose the president and Cohen.
And therein lies the key to the whole thing. Trump is doing this because he doesn't want to have to do a deposition under oath. So he agrees not to enforce the contract in the hope that the judge will dismiss the case as moot. This all relates to something called the voluntary cessation doctrine — the defendant agrees to not undertake the action that the lawsuit opposes and hopes that the matter is therefore moot and the court can't order any additional remedies. But there are exceptions to that doctrine and Michael Avenatti will no doubt be arguing that this falls under those exceptions.
The fact that there are many other women out there with similar hush money agreements with Trump may help Avenatti make that argument.