When a federal law is challenged and a district court finds it to be unconstitutional, the judge will often issue an injunction that stops the implementation of that law nationwide. They do this for obvious reasons — we can't have federal law apply in one place but not in another. But Jeff Sessions wants to fight against that practice.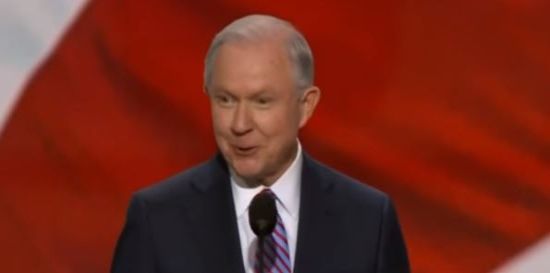 In a speech in Missouri, Sessions revealed he was issuing new litigation guidance that he said would "assist our Department attorneys in fighting unconstitutional orders" all the way to the U.S. Supreme Court…

During the Obama administration, Republican-led state attorneys general and business groups often sought nationwide injunctions, a strategy that has since been more often deployed by Democratic state attorneys general and civil rights groups who seek to block many of President Donald Trump's policies.

By Sessions' count, courts have issued nationwide injunctions 25 times since Trump took office.

Among some of the most well-known examples include an injunction from a federal judge in Hawaii to block Trump's order banning people from certain Muslim countries from traveling to the United States.

Sessions later verbally attacked the judge, Derrick Watson, saying on conservative talk radio "The Mark Levin Show": "I really am amazed that a judge sitting on an island in the Pacific can issue an order that stops the president of the United States from what appears to be clearly his statutory and constitutional power."
You can be amazed at it all you want, but that is precisely how the law is supposed to work. The travel ban was a national policy. If a district judge determines it's unconstitutional, that can't apply only in that specific judicial district. First, it would make the law unequally applied. Second, it would make the law easy to circumvent — if someone wanted to sneak into the country to do damage, they'd just have to fly through Hawaii because the ban can't be enforced there. A nationwide injunction is the only possible way to deal with it. And usually, the injunction is stayed so the government can appeal it anyway.
This is the usual Republican hypocrisy. They demanded nationwide injunctions during the Obama administration when filing such suits. Now that it's affecting them, they object to it. But it's the only rational way to exercise judicial power and it's exactly what was intended from the start.