Trump lawyer and leader of the American Center for Law and Justice Jay Sekulow has repeatedly called the Military Religious Freedom Foundation an "atheist group" despite having been told many times that most of their staff and the clients they represent are, in fact, Christians who object to being forced into religious exercises like prayer meetings and Bible studies by their commanders. MRFF has sent a letter to him demanding that he stop spreading this misinformation.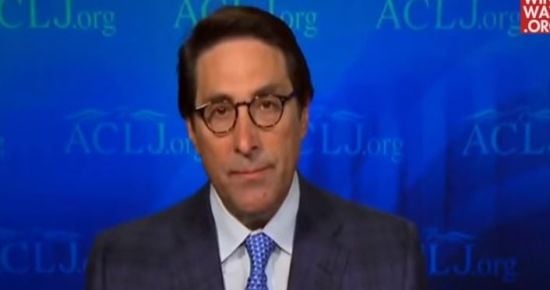 Sekulow has publicly sought to defame MRFF on his own ACLJ blog and social media profiles. Since 2016, at least 13 postings on his Facebook page falsely label MRFF an "Atheist Group."

MRFF represents and defends ALL servicemembers, of ANY Faith or Non-Faith, from religious discrimination in the U.S. Armed Forces.
Ironically, Approx. 96% of MRFF Clients ARE Christian!

While MRFF strongly backs its many Atheist, Agnostic, Humanist, and Secularist clients, Sekulow continually seeks to deliberately mislead religious servicemembers, many of whom also face discrimination, by intentionally defining MRFF as an Atheist Group. These reckless and malicious lies are defamatory since, among other things, they dissuade servicemembers of faith from seeking MRFF's help when they have their freedoms impinged upon.
You can read the letter MRFF's attorneys sent to Sekulow here. Calling them an atheist group shouldn't be defamatory, of course, but in this country it is. The Christian right, knowing that atheists are among the least popular groups in the country and are considered inherently evil and dangerous by their followers, love to frame every issue, especially church/state issues, as Christians vs atheists. That's how you keep the money flowing in, by labeling those you oppose as something your followers despise. He is using this label deliberately, strategically, without regard for whether it's true or not.
If MRFF were to file a defamation suit over this against Sekulow, would they win? I think it would be a close call. Defamation cases are difficult to win in this country because the standards established by the key precedent, NY Times v Sullivan, are very specifically and narrowly drawn. But they do have a very plausible case here. It would be amusing to see Sekulow have to defend himself in a libel suit while he's busy defending Donald Trump. Maybe he can hire Rudy Giuliani to speak for him in the media, like Trump has done to hysterical and ridiculous results.
I've said many times that Sekulow is a very talented attorney, at least when it comes to constitutional law. He's even won some victories that I agree with completely, like
Lamb's Chapel vs Center Moriches
, which resulted in a unanimous ruling that if a governmental body, like a public school, makes its facilities available to rent or use by community groups, they can't deny that same access to religious groups. That result is dead right and an important protection for equality and First Amendment rights.
But his labeling of MRFF as an atheist group is him working as a pitchman, not an attorney. Doing so fires up his target audience and that's how you get Christian conservatives to support you and send you money. And send it they do, to the tune of $230 million from 2011 and 2015, with an outsized amount of it ending up in the bank accounts of Sekulow and many of his family members due to a complex web of inter-related non-profit groups like the ACLJ and Christian Advocates Serving Evangelism. None of it is illegal, but let's just say that the more money his public raging against MRFF and similar groups brings in, the more ends up in his pocket. So he has every incentive to defame them in order to encourage his followers to keep sending in donations.
I'll be curious to see what his response is, or if he responds at all, and even more curious if it ends up with a lawsuit being filed by my friend at MRFF. Sekulow has taken on some tough opponents, but MRFF founder Mikey Weinstein is an absolute pit bull (and an attorney himself, a former Air Force JAG officer, White House counsel in the Reagan administration and chief counsel to Ross Perot before forming MRFF).