Deputy Attorney General Rod Rosenstein, who is overseeing the Mueller investigation because AG Jeff Sessions recused himself, either is considering resigning or has offered to resign, depending on which report is more accurate. The Washington Post and New York Times have slightly different reports on the matter. We'll start with the Times: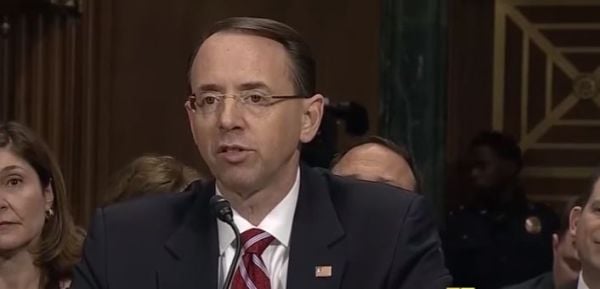 Over the weekend, Mr. Rosenstein called a White House official and said he was considering quitting, and a person close to the White House said he was resigning. On Monday morning, Mr. Rosenstein was on his way to the White House to meet with Mr. Trump's chief of staff, John F. Kelly.

Mr. Trump was in New York for the United Nations General Assembly, and it was not clear whether he would accept a resignation, fire Mr. Rosenstein or allow him to remain in the job.
And the Post:
eputy Attorney General Rod J. Rosenstein has told White House officials he is willing to resign in the wake of revelations that he once suggested secretly recording the president, but it is unclear whether the resignation has been accepted, according to White House officials.

One Justice Department official said Rosenstein was on his way to the White House Monday and is preparing to be fired. But the official said Rosenstein is not resigning.
Either way, if Rosenstein ends up leaving, that's a very bad thing. Trump would surely appoint someone who would either fire Mueller or, more likely for political reasons, narrow the scope of the investigation so it can focus solely on Russian collusion and not include any investigation of any other things that may have arisen during the course of the investigation. Either way, Trump would be dramatically reducing the danger of that investigation to him.
It may also be true that Rosenstein may be forced to recuse himself under DOJ rules soon anyway because, like Sessions, he may end up being a witness in the investigation of obstruction of justice by Trump. I expect that Rosenstein has asked Mueller whether he is likely to be called as a witness.
Update: It's being reported now that Rosenstein and Trump will meet at the White House on Thursday and nothing will happen before then. I also just saw a former DOJ official on TV saying that there's a different result if Rosenstein resigns rather than being fired. If he resigns, the Vacancies Reform Act applies and Trump can replace him with anyone who has been confirmed by the Senate in any position throughout the administration, but if he's fired, that would not be the case and any replacement would have to go through the confirmation process. That's a very important distinction because the Senate would certainly press any nominee on whether they would alter or end the Mueller investigation and likely refuse to confirm anyone who doesn't say they'd let it continue.