In what seems to have become about a weekly occurrence as Trump has had to troll the right-wing fever swamps to find political appointees, another administration official has been caught writing racist things under a pseudonym. This time it's Eric Blankenstein, a political appointee with the Consumer Financial Protection Bureau.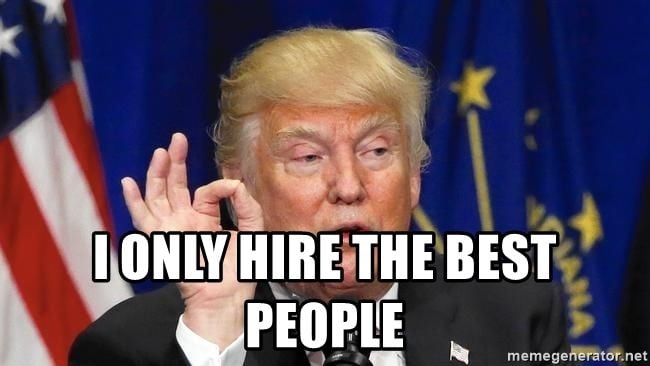 A senior Trump appointee responsible for enforcing laws against financial discrimination once questioned in blog posts written under a pen name if using the n-word was inherently racist and claimed that the great majority of hate crimes were hoaxes.

Eric Blankenstein, a policy director at the Consumer Financial Protection Bureau, expressed those and other controversial views more than a decade ago on a political blog he co-authored with two other anonymous contributors.

In a 2004 post, Blankenstein wrote that a proposal at the University of Virginia to impose harsher academic penalties for acts of intolerance was "racial idiocy." He questioned how authorities could know the motivation of someone using a racial slur.

"Fine . . . let's say they called him n—– ," he wrote, spelling out the slur. ". . . would that make them racists, or just a——-?"

Blankenstein also wrote that "hate-crime hoaxes are about three times as prevalent as actual hate crimes."
After the Washington Post first reported this the other day, Blankenstein tried to get one of his African-American female subordinates to write a note supporting him. She saw the blog posts and refused and now some of his staff is in open revolt against him.
"The tone and framing are deeply disturbing to me as a woman, African American, advocate for LGBTQ rights, and human being," Patrice A. Ficklin, a career staffer and director of the Office of Fair Lending and Equal Opportunity, wrote to hundreds of agency employees.

Earlier in the week, Blankenstein asked Ficklin, his subordinate, to write a supportive note about him for The Post's initial story. In her email Friday, Ficklin said she had not read Blankenstein's blog when she did so. "After the article appeared, I began to read his posts and was struck by how they reminded me of debates we've had with Eric on supervisory and enforcement matters," she wrote.
That takes some chutzpah to even ask. Trump seems to have stocked executive agencies all over the government with these third-rate racist jerks who were willing to pledge allegiance to him. That includes several judicial nominees who were forced to withdraw after some of their past writings have come to light. So many mainstream Republicans with actual qualifications and experience to fill the upper positions of political appointees in executive agencies have refused to work for Trump that he's had to name hundreds of backwater wingnuts regardless of their record. That must be what he meant when he said he only hired the best people.