One of my great joys in life is listening to incredibly stupid wingnuts declare that everyone and everything is demon-possessed. Pastor Andrew Wommack says that those who are opposing Brett Kavanaugh's nomination to the Supreme Court are evil and possessed by demons as part of the great spiritual war that exists only in the minds of the terminally idiotic.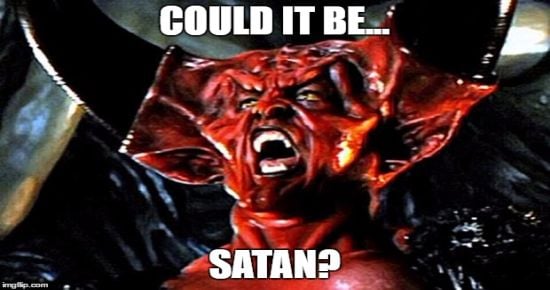 "I believe that the average person would never act the way that they see some of these people acting," Wommack said. "I believe it is pure evil. There is evil fighting to destroy lives and stuff and I think that we've got people in positions of leadership that are demon-possessed."

"Normal, average, every day people—especially Christians—it's hard for us to really envision that people could be that evil," said Richard Harris, who runs the School of Practical Government at Wommack's Charis Bible College, "that they could be so diabolical to assassinate an innocent man's character like this. But what we don't understand is how much those people want power. They worship that power and they will do anything to keep it and get it. It's time that we realize that our enemy is spiritual, but that enemy is working through people."

"That is flesh, but I believe it is inspired by demons," Wommack responded, adding that it is therefore imperative that Christians get out and vote in the midterm elections.
I can't wait for Gordon Klingenschmitt to identify the specific demon that is possessing me. I hope it's that one Chip guy. He was fun, but I haven't heard his voice in my head for a while now. With my luck, I'll be possessed by Guy Fieri.
We want to know what you think about the upcoming midterm elections. Vote in our poll below!