The Intercept has an interesting article about Brett Kavanaugh's time in the Bush administration, where he served as an Associate White House Counsel and as Staff Secretary. Trump refused to turn over hundreds of thousands of memos, emails and other documents from Kavanaugh's time in those jobs but we may soon get a look at them through the National Archives.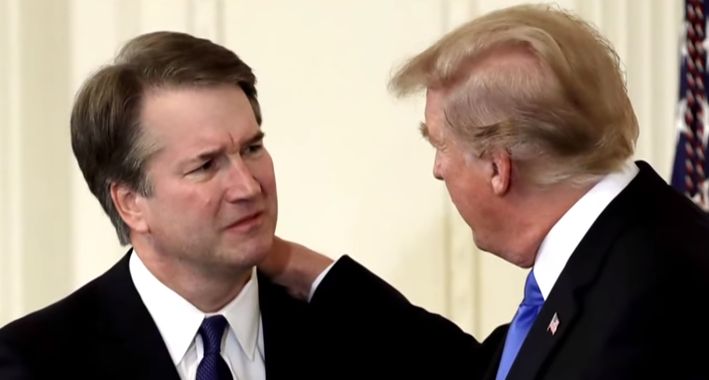 Three allegations of sexual assault — the first was broken by The Intercept — and and FBI investigation weren't enough to sink Kavanaugh. Nor were indications of perjurious testimony — in part because a trove of documents relating to Kavanaugh's time with the Bush administration that is currently being analyzed by the National Archives, including emails and memos about surveillance, torture, and Kavanaugh's involvement with a hacking scandal, won't be released until the end of October.

At least 100,000 documents relating to Kavanaugh's involvement in developing policy during his time as associate counsel to the president from 2001 to 2003, and his time as staff secretary from 2003 to 2006, have been withheld by the Trump administration, citing executive privilege. But the National Archives revealed, in response to a lawsuit from the Electronic Privacy Information Center, that there are hundreds of emails in the separate, 300,000 document cache that the agency is reviewing for publication. "The communication to EPIC revealed that Kavanaugh sent 11 e-mails to John Yoo, the architect of warrantless wiretapping; 227 e-mails about 'surveillance' programs and the 'Patriot Act;' and 119 e-mails concerning 'CAPPS II' (passenger profiling), 'Fusion Centers' (government surveillance centers), and the Privacy Act," EPIC said in a statement announcing the revelation.

With proper public understanding of Kavanaugh's role in the unpopular policies of of the Bush White House, that role may have been disqualifying by itself.
I will be very curious to see what is in those documents. If they show that Kavanaugh played a role in developing, advocating or defending the Bush policies on torture and warrantless wiretaps, that would be a clear cut case of perjury. When asked if he played any role in the torture program, he told the Senate Judiciary Committee that he was "not read into that program, not involved in crafting that program nor crafting the legal justifications for that program" and that he "became aware of the program and the memos when they were publicly disclosed in news reports in 2004." If those documents show otherwise, there is a rock solid case for impeachment and even prosecution (though it's almost inconceivable that they could muster the 67 votes to do that).
If he played a role in the development or legal justification for either of those blatantly illegal programs, justice would demand that he be impeached. It's disturbing enough that, as my former boss Jeff Morley has written, Kavanaugh has a long record of defending not only unfettered executive power but also ruled many times in favor of the government being able to cover up these kinds of crimes.
We want to know what you think about the upcoming midterm elections. Vote in our poll below!