Kansas Secretary of State Kris Kobach, now running for governor, is asking a federal judge — the same one who hammered him and sanctioned him repeatedly in a case over the last year — to block the release of a videotaped sworn deposition in that case because, he says, it will hurt his campaign.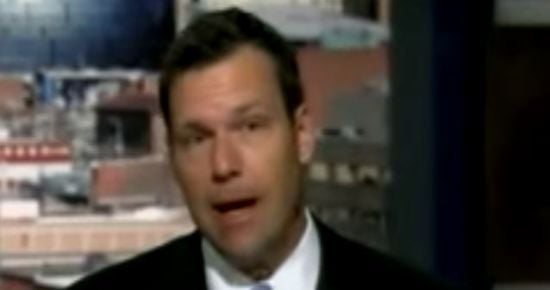 Sue Becker, an attorney working for Kobach in the secretary of state's office, filed documents Wednesday arguing against sharing the tape pending appeal of a U.S. District Court trial verdict striking down as unconstitutional the Kansas law adopted in 2011 requiring new voters to provide proof of citizenship to register.

In support of that motion, Becker said the videotape would be used by partisan organizations and political candidates in the governor's race prior to the Nov. 6 vote.

"Should the videotape be released and then used in some way to oppose the defendant's candidacy," she said in the document, "it would cost the defendant tens of thousands of dollars in new ads and manpower to attempt to respond to whatever assertions are made using cobbled together deposition soundbites."

Becker said airing video of Kobach's deposition would cause him "permanent, irreparable harm" once it was manipulated by "negative campaign mavens who are actively working against secretary Kobach."
Let me pull out my handy dandy B.S.-to-English dictionary and translate that for you: "This deposition makes me look bad and that might make people less likely to vote for me." That seems like a good argument for releasing it to me. Not releasing it would be hiding information from the public that they have a right to see precisely because it might change how people decide to vote in the governor's race. If they want it hidden, that's exactly why it shouldn't be.