Trump confidante and legendary dirty trickster Roger Stone has been caught lying yet again about his communications with Wikileaks prior to the release of those Democratic emails that were hacked by the Russians. He adamantly denied having any contact with anyone from the Trump campaign about it. The New York Times has the emails that prove he was lying.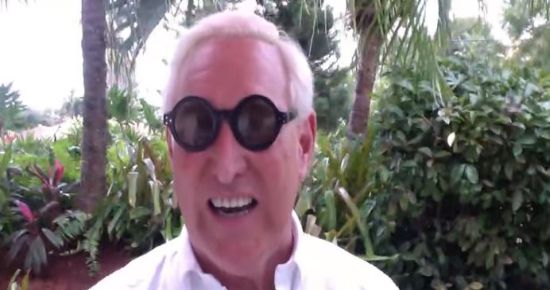 When the WikiLeaks founder, Julian Assange, appeared on a video link from Europe a month before the 2016 presidential election and vaguely promised to release a flood of purloined documents related to the race, the head of Donald J. Trump's campaign, Stephen K. Bannon, was interested.

He emailed the political operative Roger J. Stone Jr., who had been trying to reach him for days about what Mr. Assange might have in store. "What was that this morning???" Mr. Bannon asked on Oct. 4.

"A load every week going forward," Mr. Stone replied, echoing Mr. Assange's public vow to publish documents on a weekly basis until the Nov. 8 election.

The email exchange, not previously reported, underscores how Mr. Stone presented himself to Trump campaign officials: as a conduit of inside information from WikiLeaks, Russia's chosen repository for documents hacked from Democratic computers.

Mr. Bannon and two other former senior campaign officials have detailed to prosecutors for the special counsel, Robert S. Mueller III, how Mr. Stone created that impression, according to people familiar with their accounts. One of them told investigators that Mr. Stone not only seemed to predict WikiLeaks's actions, but that he also took credit afterward for the timing of its disclosures that damaged Hillary Clinton's candidacy.
But just three days earlier, when reports came out that Bannon had told Mueller's investigators about those emails, Stone
was unequivocal
in his denials, saying, "There are no such communications, and if Bannon says there are he would be dissembling." Turns out he was the one who was dissembling — that is, lying. Like the official Saudi story about the murder of Jamal Khashoggi, Stone's story just keeps changing. As his last story is revealed as a lie, he changes to a different one.
So how does he explain this? He says that he "was unaware of this email exchange until it was leaked." Um. You sent it. You can't be unaware of it. You wrote it. Do you actually expect anyone to believe this? Stone is going to end up being indicted, I predict. And he's gonna scream like a stuck pig about how it's all fake news invented to hurt him. And I'm going to laugh my proverbial ass off.