With a few Republicans finally offering some tepid criticism of Rep. Steve King for his clearly white supremacist views, his fellow fascist racists are stepping up to defend him and making clear that they know he's one of them, whether he denies it publicly or not. Such a surprise, don't you think?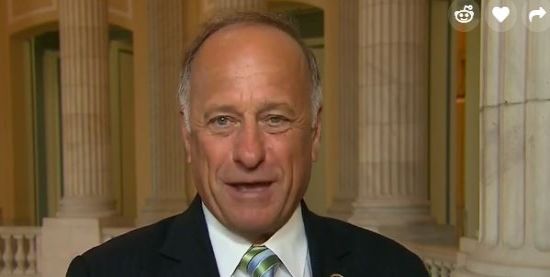 In the October 30 edition of his show America First, white nationalist YouTuber Nick Fuentes took a break from an anti-Semitic rant to praise King for "talking about white genocide," saying, "He retweets some of our guys, and he goes over to Austria, I believe it was, and he rubbed shoulders with some of our guys. I mean, he basically gets it, he knows what's going on."

On the October 20 edition of Third Rail, a podcast of white supremacist website The Right Stuff, the host known online as Borzoi declared, "We know about Steve King. We know what he's all about. We've got Steve King's back."

Later on the show, in the context of a discussion mentioning The Camp of the Saints — a "stunningly racist" anti-immigrant novel popular with right-wing media — Borzoi mentioned King's tweet that "we can't restore our civilization with somebody else's babies," as a reference to the white supremacist conspiracy theory "the great replacement."

King's white supremacy rhetoric often comes in the form of dog whistles that his racist supporters hear loud and clear, as evidenced by an October 30 thread on /pol/. The since-archived thread celebrated King's tweet which mentioned "the diversity" among the dogs present in his pheasant hunt, writing, "We had English Setters, Brittanys, German Shorthairs, and black, yellow, chocolate & white Labradors all assimilated into a fine working team." "Steve King is a white nationalist and shitlibs HATE him for it," wrote the user who started the celebratory thread, while another poster praised the "great line" of "comparing dog breeds to different races."
But he'll still be reelected and will face nothing more than a few mild rebukes from a few of his fellow Republicans.