Trump tweeted out a video the other day of a vile campaign ad accusing Democrats of allowing an undocumented immigrant into the country who killed two police officers in California. Turns out that the Clinton administration deported him, he snuck back in and was released again — by Trump ally and pardon recipient Sheriff Joe Arpaio.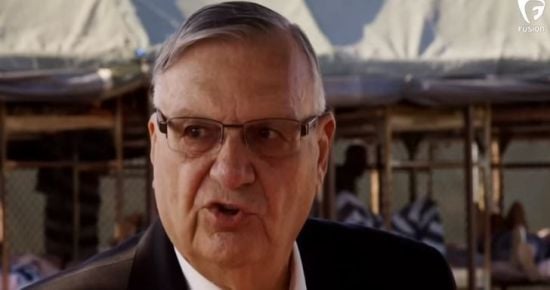 The killer, Luis Bracamontes, got into the country several times. The first time was in 1993, after which he was arrested in 1996. Arpaio's department handed him over to the feds during the Clinton administration and he was deported. He snuck back in, was arrested by Arpaio again in 1998, but this time they just released him for reasons no one knows despite having committed an offense for which he should have been deported.
But the president's claim that "Democrats let him into our country" is not entirely accurate, and neither is the claim that "Democrats let him stay."

Bracamontes, who is now on death row at San Quentin State Prison for the October 2014 slayings of Sacramento County Sheriff's Deputy Danny Oliver and Placer County Sheriff's Deputy Michael Davis Jr., first came into the United States in 1993, when he was 16 and Democrat Bill Clinton was president…

The Maricopa County (Ariz.) Sheriff's Office has told The Sacramento Bee previously that he was first arrested in Phoenix in 1996. Prosecutors in Phoenix say he was arrested Sept. 25, 1996, on deportable drug offenses related to marijuana possession and sentenced to four months in jail starting in January 1997.

Bracamontes served his time in then-Sheriff Joe Arpaio's tent-city jail, then was handed over to federal immigration agents and deported on June 3, 1997, during Clinton's second term.

He apparently did not stay in Mexico long. Records in Arizona show he was arrested on drug charges again in Phoenix in 1998, then released "for reasons unknown" by Arpaio's office. Arpaio is a Republican.
Note that this is actually worse than what happens in those sanctuary cities that Trump raves about. In sanctuary cities, the police don't turn over those who are here illegally to the feds only if they were arrested solely on immigration charges. But this guy was arrested for other crimes, which means he gets deported. That happened under Clinton the first time, then Arpaio just released him to the public, and he was arrested a third time in 2001, when Bush was in office. He was deported again at that time, but got back in again and, 14 years later, killed the two Sacramento-area deputies.
None of this can be blamed on the Democrats. The only office that just released him to the public without deporting him was Trump's buddy, Joe Arpaio. Funny that Trump didn't mention that in his tweet, don't you think?