Richard Ben-Veniste and George Frampton, both of whom were part of the special counsel team during Watergate, have an op-ed column in the New York Times explaining how a recent judicial precedent and an example from the Watergate team provides Robert Mueller with a way around new Acting AG Matt Whitaker to get his findings directly to Congress.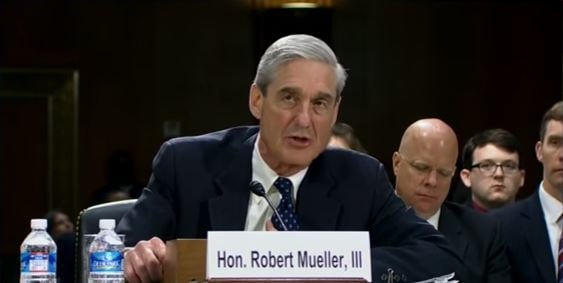 But a 44-year-old "road map" from the Watergate prosecution shows a potential route for Mr. Mueller to send incriminating evidence directly to Congress. The road map was devised in 1974 by the Watergate special prosecutor, Leon Jaworski, with our assistance. We wrote the road map — actually a report — to be conveyed to Congress; it was called "Report and Recommendation" and served as a guide to a collection of grand jury evidence contained in a single document. That evidence included still-secret presidential tape recordings that had been acquired through grand jury subpoena — but which had been withheld from Congress by President Nixon.

The recent decision by Washington's Federal District Court chief judge, Beryl Howell, to release the document from the National Archives provides a historic legal precedent that could be a vehicle for Mr. Mueller and the grand jury assisting him to share the fruits of their investigation into possible criminal conduct within the Trump presidential campaign and subsequent administration.

In the face of Congress's inability to obtain evidence that the grand jury well knew incriminated the president, we prepared the grand jury report to Judge Sirica and requested that he use his plenary authority to transmit that evidence to the House Judiciary Committee, which had already commenced a proceeding to consider Mr. Nixon's impeachment. It was carefully written to avoid any interpretations or conclusions about what the evidence showed or what action the committee should take. The report contained a series of spare factual statements annotated with citations to relevant transcripts of tapes and grand jury testimony. Copies of those tapes and transcripts were included as attachments.

Judge Sirica was convinced that the materials contained in the report should be made available to the House Judiciary Committee. His decision was affirmed by the Court of Appeals for the District of Columbia Circuit. This evidence formed the gravamen of Article I (obstruction of justice) of the impeachment resolution adopted by the Committee.
Trump and Whitaker may be able to fire Mueller, but they can't eliminate the grand jury because they are under the jurisdiction of the judicial branch and not under his authority. The grand jury can transmit its findings directly to Congress through a judicial order and there's nothing Trump can do about it.