A group of fund managers that handle a total of $32 trillion in investments is urging the governments of the world to take serious action to arrest climate change, including subsidizing next generation energy production and using carbon taxes to reduce the use of fossil fuels. Failure to do so, they say, could lead to a massive financial collapse.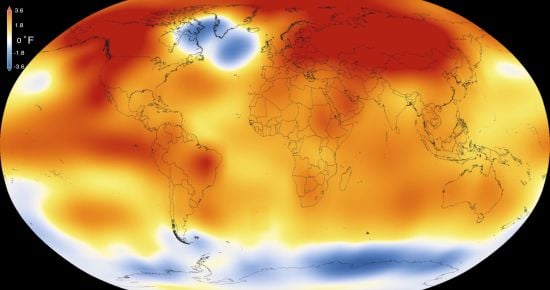 Global investors managing $32tn issued a stark warning to governments at the UN climate summit on Monday, demanding urgent cuts in carbon emissions and the phasing out of all coal burning. Without these, the world faces a financial crash several times worse than the 2008 crisis, they said.

The investors include some of the world's biggest pension funds, insurers and asset managers and marks the largest such intervention to date. They say fossil fuel subsidies must end and substantial taxes on carbon be introduced…

"The long-term nature of the challenge has, in our view, met a zombie-like response by many," said Chris Newton, of IFM Investors which manages $80bn and is one of the 415 groups that has signed the Global Investor Statement. "This is a recipe for disaster as the impacts of climate change can be sudden, severe and catastrophic."

Investment firm Schroders said there could be $23tn of global economic losses a year in the long term without rapid action. This permanent economic damage would be almost four times the scale of the impact of the 2008 global financial crisis. Standard and Poor's rating agency also warned leaders: "Climate change has already started to alter the functioning of our world."
This could be an important development. Let's face it, money rules in this world and when some of the world's most powerful investment managers call for policy changes, that is far more influential over policymakers than all the lobbying from environmental groups combined. Time will tell, of course.