With several other candidates having turned down the job, Trump turned to current Director of the Office of Management and Budget Mick Mulvaney to be the new "acting" chief of staff, but the White House said there is no time limit on that appointment and he's leaving his position at OMB to take it.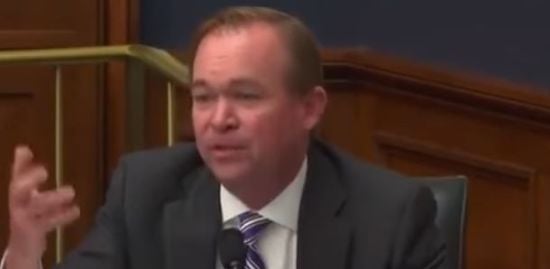 Mulvaney replaces John F. Kelly, a retired four-star Marine Corps general who Trump ousted as chief of staff last week, and the appointment caps the president's extraordinary week-long public search for a third chief of staff in two years.

"I am pleased to announce that Mick Mulvaney, Director of the Office of Management & Budget, will be named Acting White House Chief of Staff, replacing General John Kelly, who has served our Country with distinction," Trump wrote on Twitter. "Mick has done an outstanding job while in the Administration."
President Trump on Friday abruptly named Mick Mulvaney, currently the director of the Office of Management and Budget, the White House chief of staff in an acting capacity.
Mulvaney, who has also been the director of the Consumer Financial Protection Bureau, is like the utility infielder for Trump. They plug him in wherever he's needed and he dutifully lies and does his bidding. He'll be replaced at OMB by his deputy director, Russell Vought. So it appears Trump's long national nightmare is over.