The Weekly Standard, a conservative news magazine founded by Bill Kristol and John Podhoretz, who is the managing editor, is shutting down. They've taken a strong anti-Trump position on the right and Trump of course quickly gloated about it on Twitter. Then white supremacist Rep. Steve King jumped in: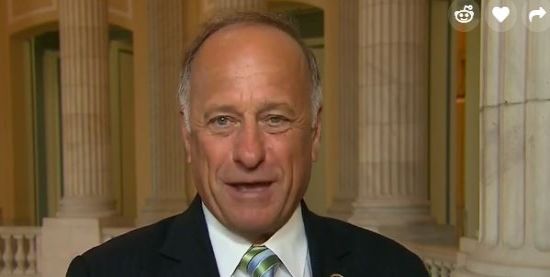 .@RealDonaldTrump is right on The Weekly Standard's deserved demise ("pathetic and dishonest"). If the articles targeting me were redacted until only truth remained, there would not be much left to read. https://t.co/lnqnU5orBx

— Steve King (@SteveKingIA) December 16, 2018
He's referring to an exchange he had with the magazine where they accused him of comparing immigrants to dirt. He called them liars and then they produced audio of the comments that proved he was the one lying. And Podhoretz minced no words in replying:
The problem with this tweet is that you are a foul, disgusting liar and a stain on American public life. The stench of your deceit and your views pollutes your district, your state, your party, and the United States. https://t.co/6Aate5nHSb

— John Podhoretz (@jpodhoretz) December 16, 2018
Every single word of that is incontrovertibly true. King represents the very worst of this country in every imaginable way.