During his sentencing hearing on Tuesday morning, the judge took the unusual step of questioning Michael Flynn about his transparently ridiculous excuse that his sentence should be lightened because the FBI didn't tell him that lying to them was a crime. He was forced to admit that he knew it was a crime.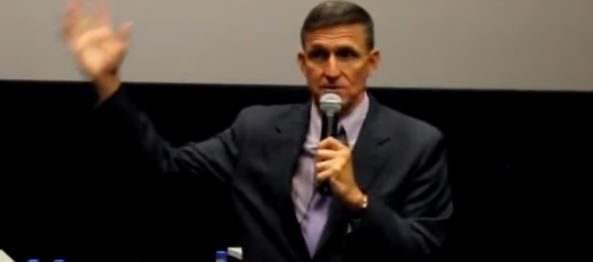 U.S. District Judge Emmet G. Sullivan began Flynn's sentencing in an unusual way, noting another judge had accepted Flynn's guilty plea and forcing the former Trump ally to answer questions under oath. Sullivan reminded Flynn he could get into "more trouble" if he were to lie in court, then asked, "Were you not aware that lying to FBI investigators was a crime?"

"I was aware," Flynn said.

The judge asked if he wanted to postpone the sentencing, or reconsider his plea.

"I would like to proceed your honor," Flynn said.

"Because you are guilty of this offense?" the judge responded.

"Yes, your honor," Flynn said.
He then questioned Flynn's attorney about why they made such an absurd argument:
Sullivan asked defense attorney Robert Kelner if it was the defense's contention that the FBI was legally obligated to remind Flynn that lying to the FBI is a federal crime, or that "Mr. Flynn was entrapped by the FBI."

"No, your honor," Kelner said.

The judge asked whether any of the FBI's actions "raised any degree of doubt that Mr. Flynn intentionally lied to the FBI."

"No, your honor," Kelner said, adding that Flynn stood by his guilty plea.
The judge clearly was not buying this one bit, nor should he have. In fact, it seems to have really made him angry that he would attempt to make such a clearly inane argument. He ended up delaying the sentencing to a later date and told him, "Arguably, that undermines everything this flag over here stands for. Arguably you sold your country out. The court's going to consider that. I cannot assure you, if you proceed today, you will not receive a sentence of incarceration."
To say this didn't go well for Flynn is a major understatement. The judge said at one point that he was "not hiding my disgust, my disdain for this criminal offense," and even asked one of the prosecutors if Flynn could be charged with treason (the prosecutor correctly said no). He then called for a recess, telling Flynn he should consider whether he wanted to proceed now and let the judge impose a sentence, or to delay the sentencing and offer the Mueller team more cooperation in the hope of getting something more lenient. It was really quite a shocking turn of events. It's not clear what happens from this point on.