FBI Director Christopher Wray, CIA Director Gina Haspel and Director of National Intelligence Dan Coats all testified before the Senate Intelligence Committee on Tuesday and directly contradicted Trump's fantasy world views on Russia, Iran and North Korea in several important areas.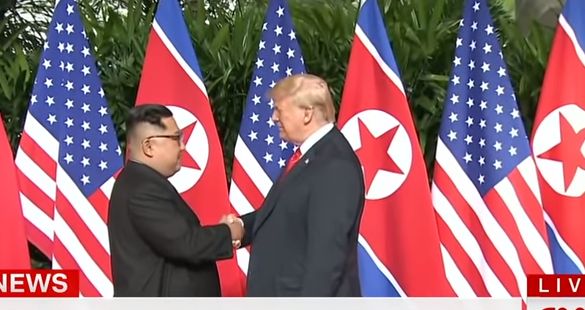 In Trumpworld, Russia is our friend, Iran is on the verge of getting nuclear weapons and North Korea, which already has them, is going to give them up just because he has exchanged some nice letters with Kim Jong-Un, and ISIS has been defeated by his brilliant strategerizing. In the real world:
China and Russia are working together to challenge U.S. leadership in the world, undermine democratic governments and gain military and technological superiority over the United States, the nation's top intelligence official told a Senate panel Tuesday during a hearing that also underscored the distance between the U.S. intelligence community and President Trump on several critical fronts…

He said that North Korea was "unlikely to completely give up its nuclear weapons and production capabilities," which the country's leaders consider "critical to the regime's survival."

That assessment threw cold water on the White House's more optimistic view that the United States and North Korea will achieve a lasting peace and that the regime will ultimately give up its nuclear weapons…

Officials also warned that the Islamic State was capable of attacking the United States and painted a picture of a still-formidable organization. Trump has declared the group defeated and has said he wants to withdraw U.S. troops from Syria as a result.

Coats noted that the terrorist group has suffered "significant leadership and territorial losses." But it still commands thousands of fighters in Iraq and Syria, he said, and maintains eight branches, more than a dozen networks and attracts thousands of supporters around the world…

Officials told lawmakers that Iran was in compliance with the agreement, known as the Joint Comprehensive Plan of Action, as some officials had previously said privately. But Iranian leaders are discussing reneging on the deal if they fail to reap the economic benefits it was supposed to bring after international sanctions were lifted, Haspel said. The Trump administration has reimposed U.S. sanctions…

Officials also warned, as they did last year, about Russia's intention to interfere with the U.S. political system via "information warfare" waged largely on social media, which stokes social and political tensions to divide Americans. Other countries are likely to employ those tactics, as well, Coats said.
You know what "national security crisis" none of them bothered to mention? The Mexican border. Because that's another fantasy that Trump has invented and is trying furiously to sell to the public. At every turn, Trump is shown to inhabit a world that bears virtually no resemblance to the one we actually live in. And that's a very, very dangerous thing.