Once again, Donald Trump is rejecting the findings of all of our intelligence agencies when it comes to Iran, Russia, ISIS and North Korea. This after the heads of the major agencies testified that the picture Trump has been painting on those issues for the public is wildly inaccurate. On Iran: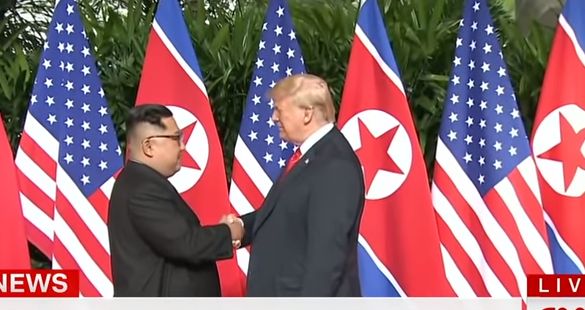 The Intelligence people seem to be extremely passive and naive when it comes to the dangers of Iran. They are wrong! When I became President Iran was making trouble all over the Middle East, and beyond. Since ending the terrible Iran Nuclear Deal, they are MUCH different, but….

— Donald J. Trump (@realDonaldTrump) January 30, 2019
….a source of potential danger and conflict. They are testing Rockets (last week) and more, and are coming very close to the edge. There economy is now crashing, which is the only thing holding them back. Be careful of Iran. Perhaps Intelligence should go back to school!

— Donald J. Trump (@realDonaldTrump) January 30, 2019
Is there anything funnier than someone telling someone else to "go back to school" immediately after using "there" instead of "their" when the latter is correct? All of this is nonsense, of course. Iran is allowed to test rockets. They have thousands of rockets. That's conventional weaponry that pretty much every relatively advanced country has. What they do not have is nuclear weapons, but they are much more likely to try to develop them after Trump ripped up the agreement that prevented them from doing so.
On North Korea:
….Fighting continues but the people of Afghanistan want peace in this never ending war. We will soon see if talks will be successful? North Korea relationship is best it has ever been with U.S. No testing, getting remains, hostages returned. Decent chance of Denuclearization…

— Donald J. Trump (@realDonaldTrump) January 30, 2019
…Time will tell what will happen with North Korea, but at the end of the previous administration, relationship was horrendous and very bad things were about to happen. Now a whole different story. I look forward to seeing Kim Jong Un shortly. Progress being made-big difference!

— Donald J. Trump (@realDonaldTrump) January 30, 2019
Progress? When you came back from that summit with Kim Jong-Un, you declared that there was no longer any nuclear threat from North Korea at all and we could all sleep soundly from now on. Now "time will tell what will happen"? You said it already happened. What makes this especially ridiculous is that he claims it's "naive" to think Iran, which doesn't have nuclear weapons, is not a significant threat to us, but North Korea, which does have them, is not a threat anymore. Mind you, Iran actually signed an agreement not to build nuclear weapons with the strictest enforcement regime ever put in such an agreement and all of our intelligence services and the International Atomic Energy Agency, which did the monitoring, agree that they were in full compliance with that agreement when Trump withdrew from it. North Korea, on the other hand, says they will not give up their nuclear weapons until we destroy all of ours, which makes any such agreement impossible, and they've never stopped developing them. Who is the naive one here, dummy?
Look, there are many valid criticisms of our intelligence agencies. They are often far too eager to intervene in foreign countries, install dictators and undermine democracy. Been that way since they were founded. But that isn't Trump's problem with them. His problem with them is that they offer information and analysis that exposes his ridiculous lies and the fantasy world he relentlessly offers up. And if they say he's wrong, they must be wrong — no evidence needed, of course.