Roger Stone works for Alex Jones' InfoWars, co-hosting their show The War Room. But maybe not anymore. After Stone apparently gave an exclusive story to the Gateway Pundit blog about a new filing in the case Mueller filed against him, Jones went off on Stone live on the air and suggested he was firing him.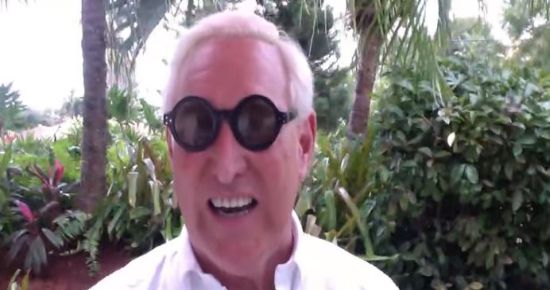 iscussing the Gateway Pundit story and the motion (which Jones initially mischaracterized as a "lawsuit against Robert Mueller"), a clearly perturbed Jones said during the February 13 broadcast of his show, "I like Roger as a friend, but he doles out exclusives … some to Fox News, some to Daily Caller, and he works here. I pay his salary. … So I guess Roger Stone's going to go to the woodshed here pretty soon."

Jones went on to say — possibly facetiously — that Stone now works for Gateway Pundit. He said, "This is a global exclusive. In the United States District Court for the District of Columbia, filed today, Roger Stone's motion requesting a show cause order. So it's on Gateway Pundit. Well that's good. Gateway Pundit can hire Roger. … In fact, Roger Stone now works for the Gateway Pundit, which is good."

An annoyed Jones added, "People call us to find out what Roger's up to and I just — I can't tell you; I don't know. So Roger Stone now works for the Gateway Pundit, ladies and gentlemen — seriously, as of about 10 seconds ago. I'm like, 'Roger, get a job with the Gateway Pundit.' Because — here, let me check my other phone. I don't want to go off half-cocked. Maybe he called this other phone and gave me the exclusive. Nope, doesn't look like it."
Someone please pass the popcorn, with some extra schadenfreude sprinkles on top.