Karen Harden, an "intercessor" and "prophet," attended the National Prayer Breakfast recently and came away just glowing with the confidence that Donald Trump has become a mature, sincere Christian since allegedly being "born again" around the time he was elected to office.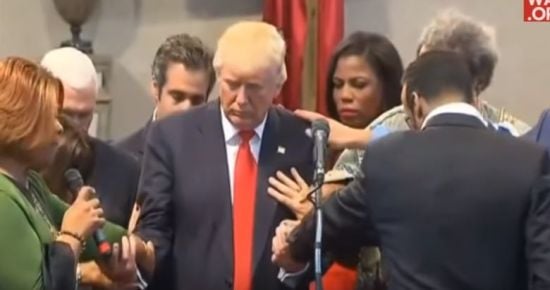 This year, as I listened to President Trump share at the National Prayer Breakfast (Feb. 7), it was different than last year. The spiritual growth that has taken place in him is apparent. Do you remember when he was running for office, and he would give a Scripture reference and fumble it? Or quote a Scripture and it wasn't exactly correct? Last year at the Prayer Breakfast, his sincerity and desire to stand with the Christian community were obvious. However, he had only been in office a few weeks and was a very new believer. He shared Scriptures, but you could tell, it was all new to him.

Not this year.

Yes, he was probably reading from a teleprompter, but he shared several scriptures and they flowed out of him not as from a speech, but from the heart. He was familiar with them. He knew them.
Coming from a self-declared "prophet," this incredible gift for self-delusion is hardly surprising. The lengths to which the Christian right has gone to convince themselves and others that Trump is one of them when, in reality, he couldn't care less about religion, are amazing to watch. Their capacity for believing the palpably absurd seems to know no bounds at all.