If you want yet more evidence that Rep. Steve King is a white supremacist, look no further than the fact that other white supremacists have sprung into action to keep him in Congress. We know that because of a bunch of leaked chat transcripts from a server used by white supremacist groups.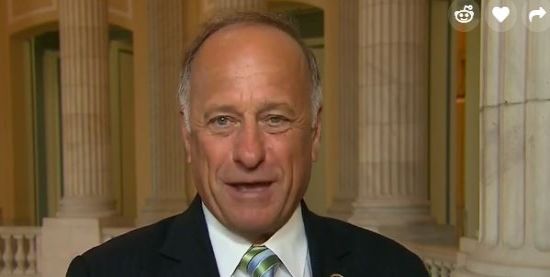 But newly leaked chat logs linked to a prominent hate group reveal that white nationalists have actively worked to keep King and his racist ideology in office — by donating to his campaign, calling members of Congress to show their support when King stumbles or by attempting to reach the congressman directly.

On Wednesday, an independent media organization called Unicorn Riot released a searchable database containing what the company says are "more than 770,000 messages from chat servers associated with Identity Evropa," a white nationalist collective designated as a hate group by the Southern Poverty Law Center that prides itself on its college campus recruiting campaigns…

"Steve King is more useful in Congress than as a nobody," wrote user TMatthews. "He needs to be more careful about who he talks to and to not make tactless statements to the media."

King's quote must have also worried Identity Evropa's leader, Patrick Casey (aka Reinhard Wolff). As GOP leadership was stripping King of his committee assignments over his comment, Casey ordered his followers to call the office of House Minority Leader Kevin McCarthy (R-Calif.) and voice their support for King. Casey wrote:

"Attention @everyone:

Your task for today is to call Kevin McCarthy's office and let them know that you stand with Steve King—that you take issue with McCarthy's kowtowing to the left. Call both of these numbers … Let's get to work."
Now why would white supremacists be working the phones to support Steve King? The answer to that is so obvious that I feel no need to spell it out. We have a white supremacist in Congress, folks. It's really that simple.