My friend Radley Balko takes an intellectual pickaxe to a profoundly stupid article by David Frum in the Atlantic, which selectively and dishonestly quotes statistics to support a central thesis that if liberals don't take steps to curb immigration, voters will turn to those with fascist tendencies like Trump.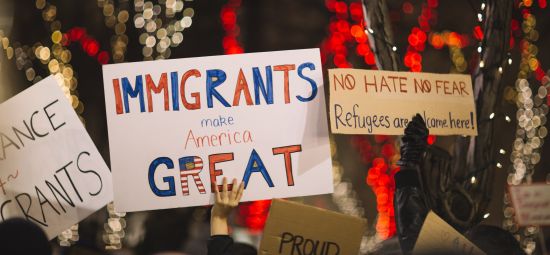 David Frum's cover essay in the latest issue of the Atlantic calling for immigration restrictions is generating some well-deserved scorn. Even his central premise — that if liberals don't enforce immigration laws, the nation will turn to fascists — is bedeviled by reality. President Trump, Fox News and the Republican Party tried with all their might to demagogue immigration before the midterm elections. The GOP got clobbered. Democrats did especially well in elections in New Mexico, Texas, Arizona and California, the states that border Mexico. In fact, all nine members of Congress who represent the districts along the Mexico border oppose funding for Trump's border wall.

According to Gallup, 67 percent of Americans think immigration levels should either stay the same or increase, and 75 percent think immigration is a "good thing," an all-time high. Over the past two years, the percentage who want to restrict immigration from current levels has averaged 30 percent, the lowest figure since Gallup began asking this question in 1965. An NBC News-Wall Street Journal poll found that 61 percent of Americans think immigration helps the country more than it hurts, also an all-time high, and an incredible 49-point swing from 2005. There's virtually no evidence that support for more immigration is a political liability, other than in Frum's mind. At worst, an immigration supporter will lose the 30 percent of voters he or she would have lost anyway.
And then there's this bizarre claim:
In another fit of historical ineptitude, Frum pines for the years 1915 to 1975, a period of immigration restrictionism, which he bizarrely describes as the "years in which the United States became a more cohesive nation." (Frum also conveniently leaves out how those policies were grounded in racism.) The economist Noah Smith obliterated this argument in a pretty devastating Twitter thread. This was a period of Jim Crow, lynching, red scares, the Depression, race riots, labor rights, mass incarceration, racial assassinations, internment camps and domestic terrorism. Under no circumstances would you describe it as an era of broad social cohesion.
Indeed, those periods when the United States has gone through a fit of anti-immigrant nativism and xenophobia are periods of massive social strife and violence. Frum's solution is apparently to give in to such sentiments. Truly bizarre "reasoning."