Shockingly, Judge Amy Berman Jackson also gave former Trump campaign chairman Paul Manafort a light sentence relative to the sentencing guidelines. She gave him just over 3.5 years when the maximum sentence was 10 years for the offenses he was found guilty of. Given how hard she's been on him during the case, that's a big surprise.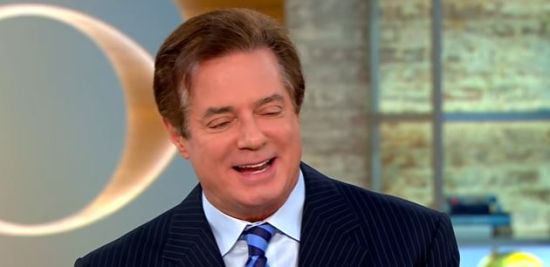 Once a globe-trotting lobbyist and consultant to presidents, Paul Manafort left a Washington, D.C. courtroom Wednesday a felon twice over, facing down a 7 1 / 2 year prison sentence…

For his crimes of illegally lobbying in Ukraine and hiding the proceeds overseas, then encouraging witnesses to lie on his behalf, Jackson added 43 months to the 47 months Manafort received in Alexandria federal court last week for bank and tax fraud.
But he's not out of the woods yet. State prosecutors in New York have now indicted him for more than a dozen felonies. If convicted on those counts, Trump would be unable to pardon him because the president can only issue pardons for federal crimes, not state ones.
As he returned to the jail cell in Alexandria, Va., where he has been held for nine months, prosecutors in New York announced a 16-count grand jury indictment charging the former Trump campaign chairman with mortgage fraud, falsifying business records and conspiracy.
So he still faces more legal trouble, the kind that Trump can't help him get out of.