The Freedom of Religion Foundation is representing several students in seeking an end to the practice of forcing students in the choir to attend local church services and sit through the sermons. And that's not the only constitutional violation they cite in a letter to the superintendent of schools in Hamilton, Michigan.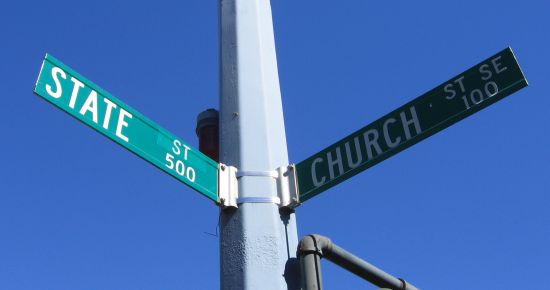 Hamilton High School regularly holds choir performances in several area churches. The school's Women's Chorale and Honors Choir instructor Holly Israels has reportedly integrated students directly into the Sunday worship services at these churches, essentially taking the place of the church's own gospel choir at a number of events throughout the year. After performing the opening hymns, students are directed to sit in the front row of pews for the duration of the roughly hour-long sermon before singing the closing hymns.

A student complainant conveyed to FFRF extreme discomfort during these sermons, especially when the content strays into "derogatory messages regarding people in the LGBT community." FFRF's complainant further reports that Israels "fully participates in all worship activities during the sermon."

The student has been placed in a no-win situation. "Either we have to sit through these sermons or leave and be ostracized," the student told FFRF. The student has ended up doing both on different occasions.

"I have felt humiliated," the student says. "The teacher doesn't understand the situation I'm in."
The teacher doesn't care. She no doubt thinks that having you there is good for you because it might convert you to Christianity. But not only is that not her job, it's blatantly unconstitutional and wrong to put students in such a position. And that isn't all the school is doing that is illegal:
FFRF also notes that Hamilton High School allows a youth pastor to enter the school during the school day. Pastor Scott Davis of Haven Reformed Church has reportedly been seen talking with students during the lunch period "a couple times every week." Davis does not limit himself to conversing with students who are members of his church, but also sits down with other students and initiates conversation. He has entered classrooms on occasion, as well, asking students in one particular instance if they would go on the "Colorado Challenge," a youth field trip organized by his church.

It is inappropriate and unconstitutional for the district to offer pastors unique access to befriend and proselytize students on school property, FFRF reminds Hamilton Community Schools.
No kidding. If the school doesn't end these practices, they're facing a major lawsuit they have little chance of winning. Let's hope they come to their senses.