Baghdad Kellyanne Conway says she was raised to air grievances in private, which is obviously why she went on national television to complain about her husband publicly criticizing her boss. Because she never criticizes people publicly herself, of course. She's totally not Trump's attack dog or anything.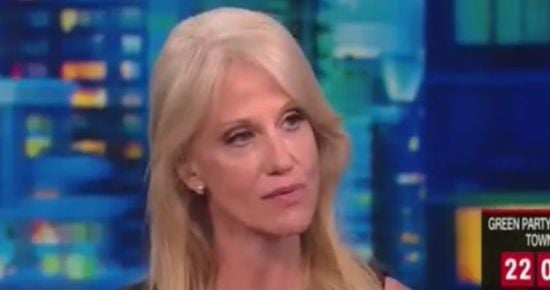 "Also what is new is not supporting the agenda of the president and my work there," she added. "Because when George took himself out of contention for a top job in the Department of Justice, almost two years ago now, he put out a public statement that many in the media refuse to cover now, which is we've decide as a family it's not the right time for both of us to have big jobs in the federal government. Her husband, she continued, also agreed that while he'd "stay in the private sector" he would continue to support "the president, the work of the administration, and of course his quote wonderful wife."
Note that she also just contradicted Trump's lie that her husband was denied a job in his administration. She says he chose not to take a job that was offered.
"I was raised though in a household of strong Italian Catholic women who taught me that you air grievances like that in private, so it is very surprising to see it be so public," she said, and continued to publicly air her grievances with her spouse…

"But again, I don't talk much about this publicly," Conway said, out of concern for her children. "I prefer not to address it, and if that means people are mischaracterizing me or my boss, or even George's tweets — "
And that's why I came on national television to say these things, of course. And now here comes the truly bizarre part:
"I don't know when the feminists are going to write this story about the unusual situation of a man getting power through his wife," she added in a bizarre tangent. "But that's what we have here."
George Conway was a well-known, very influential conservative lawyer long before Kellyanne got her job with Trump. Up to that point, she was a relatively obscure Republican pollster. What power has he gotten through her other than more media recognition because he's criticizing her boss? Just weird.