As I'm sure you know by now, Robert Mueller officially wrapped up his investigation and submitted his final report to Attorney General William Barr late yesterday afternoon. There will be no more indictments from his investigation, though there still likely will be from parts of the probe he farmed out to other prosecutor's offices.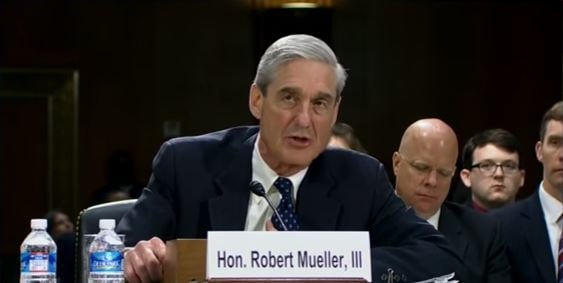 So what happens now? Barr sent a letter to the leaders of the judiciary committees in both houses of Congress saying that he may be able to brief them, as the law requires, on the general findings and conclusions as early as this weekend. He also said he was consulting with Deputy AG Rod Rosenstein and Mueller to determine what would be appropriate to release to Congress and to the public from the investigation. There are some restrictions on that. He cannot, for example, release grand jury evidence to the public.
I'm concerned, though, about the interplay of two DOJ policies. One is that the president cannot be indicted, and he clearly won't be. The second is that they do not release negative or disparaging information about someone unless they are indicted. That second rule can't be completely enforced to the letter in a case like this, I don't think, but it could be an excuse for not releasing a lot of information that points to culpability without rising to the level of a criminal charge (or that does rise to that level, but DOJ policy prevents the filing of those charges).
It seems to me there are three distinct possibilities here in terms of what Mueller has to say about Trump:
1. That they found no evidence that Trump deliberately or knowingly conspired with Russia to affect the election.
2. That they did find such evidence, but can't indict him due to DOJ policy.
3. That they did find some evidence, but it's not clear exactly what happened or whether Trump himself specifically authorized it.
The last seems the most likely to me. If they could not indict Don, Jr., Manafort or Kushner for such a conspiracy — the ones who were in on the infamous Trump Tower meeting — then they almost certainly could not indict Trump himself for it, even without DOJ policy. The most likely thing, I think, is that the report will say that there is circumstantial evidence of such a conspiracy, but not proof beyond a reasonable doubt. That does not surprise me, it's what I predicted long ago. But that is really only the beginning, not the end.
The much larger threat to Trump, as I've said all along, is the investigation into financial crimes by Trump and his companies, which are being investigated by the Southern District of New York and the NY state AG. That's where the real danger lies for Trump and his children, and his company as a whole. Now it's up to those investigations to continue and to Congress to dig deeper into Mueller's findings to get all of this out to the public. Even if it doesn't rise to the level of chargeable criminality, it can still be impeachable.
So this is not the end, just the end of one chapter. On to the next one.