On Thursday, the Treasury Department announced a new set of sanctions on North Korea, primarily against a Chinese shipping company that has been violating international sanctions on North Korea by making shipments to them. On Friday, Trump rescinded those sanctions, apparently unaware they were being imposed in the first place.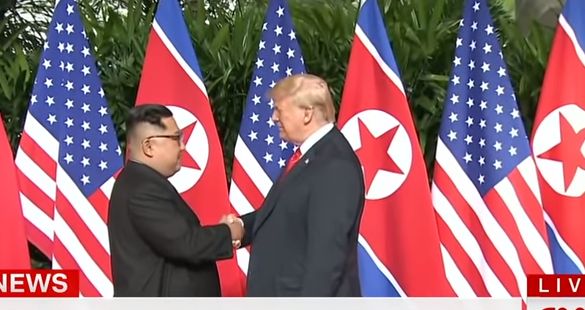 President Trump undercut his own Treasury Department on Friday by announcing that he was rolling back North Korea sanctions that it imposed just a day ago.

The move, announced on Twitter, was a remarkable display of dissension within the Trump administration and showed how actively the White House is intervening in policies that are traditionally handled by career officials in the Treasury and State Departments. Mr. Trump appeared to confuse the day that the North Korea sanctions were announced, saying that it occurred on Friday rather than on Thursday.

"It was announced today by the U.S. Treasury that additional large scale Sanctions would be added to those already existing Sanctions on North Korea," Mr. Trump said on Twitter. "I have today ordered the withdrawal of those additional Sanctions!"
Welcome to the Keystone Cops administration. So why did he rescind them? Has North Korea made some important concessions or even followed through on the promises they made months ago after Trump's first summit with Kim Jong-Un? Nope. Sarah Huckabee Sanders explained it: "President Trump likes Chairman Kim, and he doesn't think these sanctions will be necessary." He likes him. That's the reason. Of course he likes him, he has the kind of autocratic power Trump himself craves. But that is hardly a reason to undercut your own executive agency and allow the continued violation of international sanctions.
We're back to Trump's most obvious foreign policy problem. He views everything as personal, as if just being nice to Kim will fix the whole problem. And he operates on whim and "gut instinct" rather than thoughtfulness. The absolute worst kind of leader to have.