The Notre Dame Cathedral, a precious and priceless cultural achievement, has been seriously damaged by fire. It was undergoing renovations and some of the art and sculptures inside had already been removed, so that's good, but the main spire and the entire inside are gutted. The roof and main spire collapsed in a massive conflagration while hundreds of firefighters worked furiously to put out the blaze.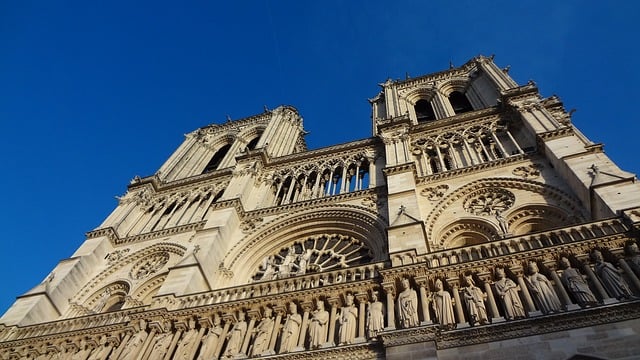 The spine-tingling, soul-lifting spire, roof and interior frame of Notre Dame Cathedral were reduced to ash Monday, as a catastrophic fire spread through a building that has embodied the heart of Paris for more than 800 years.

The fire, which came during Christianity's holiest week and was apparently accidental, left a smoldering stone shell where there had once been a peerless work of architecture, engineering and craftsmanship.

Cathedral spokesman Andre Finot told reporters that the building had sustained "colossal damage" and that the Medieval wooden interior — a marvel that has inspired awe and wonder for the millions who have visited over the centuries — had been gutted.

"Nothing will remain from the frame," he said.
I am an atheist, but I love church architecture and always have. Humanism celebrates beauty and art and this was one of the most beautiful and breathtaking buildings in the entire world. The people of Paris, and all of France, are devastated. And I think of my beloved French teacher, with whom I was supposed to travel to France a couple years ago before my health began to fail and so did his. He is devastated by this, having lived in Paris and spent so much time visiting that cathedral.
Trump, being the expert on absolutely everything, tweeted out totally useless advice:
So horrible to watch the massive fire at Notre Dame Cathedral in Paris. Perhaps flying water tankers could be used to put it out. Must act quickly!

— Donald J. Trump (@realDonaldTrump) April 15, 2019
Oh really? They must act quickly, you say? Let me jot that down for future reference — when a massive fire in the heart of a big city breaks out, you shouldn't wait to finished your baguette before trying to put it out. The French fire services responded with a tweet saying that "dropping water by airplane on this type of building could result in the collapse of the entire structure." That ended up happening anyway, but as usual Trump just thinks he knows absolutely everything about everything. Because, you know, he knows a lot of great words because of his 339 IQ and all. Jackass.