Every time some right-wing fundamentalist stubs his toe or is mildly criticized, they suddenly know exactly what Jesus felt like when he was crucified. The latest is white supremacist Congressman Steve King, who has been stripped of his committee assignments and official censored by the House for…well, for being a white supremacist.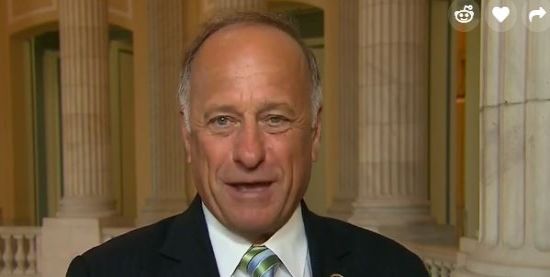 U.S. Rep. Steve King said that after facing months of criticism for comments in the New York Times about white supremacy and nationalism, he better understands the persecution Jesus Christ felt.

The 4th District representative made the comments in response to a question from the Rev. Pinky Person of the Faith In Christ Fellowship, who told King during a town hall Tuesday in Cherokee that she was concerned that "Christianity is really being persecuted."

"When I have to step down to the floor of the House of Representatives, and look up at those 400-and-some accusers — you know we just passed through Easter and Christ's passion — and I have better insight into what He went through for us, partly because of that experience," King told about 30 attendees the town hall at Western Iowa Tech Community College.
By Steve King's stripes, we shall be healed. He also comes very close to admitting to breaking the law:
In our staff, we've made sure we have solid, faithful people, in Washington and here in the district," he said.
Which would violate federal anti-discrimination laws. You can't hire someone (or refuse to hire them) based on their religion. But this isn't really about religion, it's about white supremacy.