A three-judge panel of the 6th Circuit Court of Appeals has struck down the congressional districts drawn by Republicans in 2011 as unconstitutional gerrymandered based on partisanship. The Supreme Court has yet to rule that partisan gerrymandering is unconstitutional, but have done so for racially gerrymandered districts.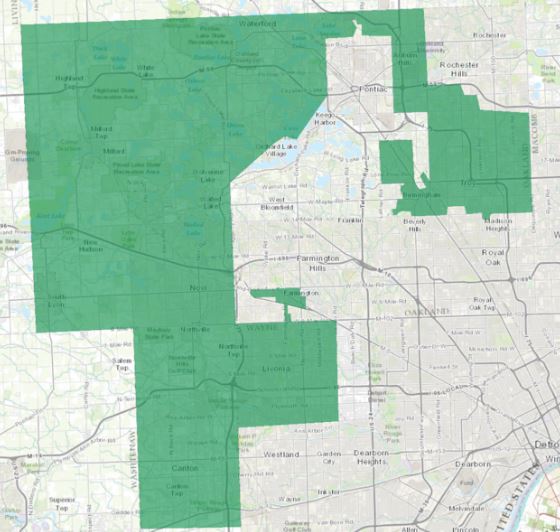 The panel wrote that it was joining "the growing chorus of federal courts" that have held that drawing districts to unfairly favor the party in power is unconstitutional. The judges said the maps violated Democratic voters' constitutional rights.

But the impact of the ruling ultimately will turn on an opinion by the Supreme Court, which is weighing decisions in two other partisan gerrymander cases involving congressional districts in North Carolina and Maryland. The high court's decision in those cases, expected by the end of June, could reinforce the Michigan ruling, force alterations to it, or even overrule it entirely…

"Federal courts must not abdicate their responsibility to protect American voters from this unconstitutional and pernicious practice that undermines our democracy," they wrote, adding that failing to protect voters' rights "will only increase the citizenry's growing disenchantment with, and disillusionment in, our democracy."

In what seemed to be a direct message to the Supreme Court, they said that "judges — and justices — must act in accordance with their obligation to vindicate the constitutional rights of those harmed by partisan gerrymandering."
Given that Kennedy was the only conservative justice to express any concern about partisan gerrymandering and he's now been replaced by Brett Kavanaugh, I'm not very hopeful of a positive outcome here even though the appeals court pointed out that the gerrymandering in Michigan was particularly extreme and egregious:
"The constitutional violations in this case are particularly severe. Evidence from numerous sources demonstrates that the map-drawers and legislators designed the Enacted Plan with the specific intent to discriminate against Democratic voters. A wide breadth of statistical evidence indicates that the Enacted Plan's partisan bias has proven severe and durable; it has strongly advantaged Republicans and disadvantaged Democrats for eight years and across four separate election cycles."
We'll find out in the next few weeks whether the Supreme Court will do anything but sit on their hands. You can read the full ruling of the appeals court here.