Ignorant bigot E.W. Jackson recently got suspended from Twitter, apparently for a really anti-Muslim tweet, but he doesn't think that's the real reason. The real reason, he says, is because he criticized Pete Buttigieg and is now being targeted for punishment by the "homocracy" that Buttigieg will oppress the nation with if elected president.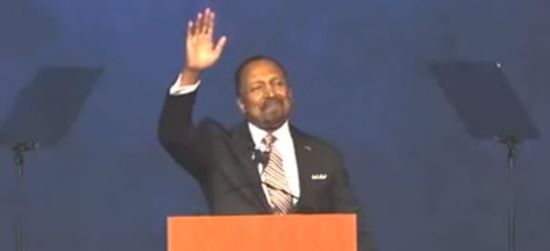 "I pointed out that what they really want is a homocracy," he continued, "and they have gone crazy and I think that is what Twitter is upset about … I think that's what's behind the suspension. I really do. I don't think it has anything to do with that comment, because that comment is about as innocuous as it gets. I'm just pointing out facts, but obviously the homocracy deal, that's a little bit of a rhetorical flourish and a polemic and they don't like it, because they don't like anybody to speak the truth."
"I've got another theory for why this has happened," Jackson said. "I don't think it's the one [tweet] they're claiming. I think this is an excuse … I think what they really suspended me over is the homocracy comment because that thing has just absolutely taken social media by storm. It has gone viral and they're all talking about it, just about every left-wing rag on the internet you can find is commenting about me."
A guy who undeniably advocates for theocracy thinks we're becoming a "homocracy." That's ironic.