You may recall that Roy Moore filed a defamation suit against Sacha Baron Cohen for a segment on his show in which he unveiled a "pedophile detector" that kept going off when it got near Moore. He's being represented by Larry Klayman, the dumbest lawyer in America not named Mat Staver, so you know this will be entertaining. Moore and Klayman just lost the first round in that battle, a fight over which court should hear the case.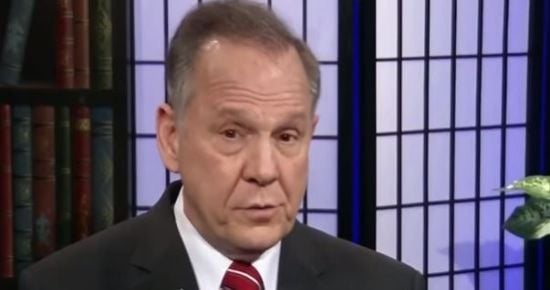 Moore and Cohen are far from resolving Moore's defamation claim. Instead, they've been sparring in recent months over what court should hear the case. Moore filed suit in federal district court in Washington, DC, arguing it was the appropriate location because that's where Cohen taped the interview. Cohen, Showtime, and CBS Corp. argued the case should be moved to federal court in Manhattan, per the terms of an agreement Moore signed before filming.

Moore lost. US District Judge Thomas Hogan ruled Monday in favor of Cohen and Showtime Monday, which means the case will be transferred to the US District Court for the Southern District of New York.

Moore's lawyer Larry Klayman told BuzzFeed News in an email that they plan to challenge Hogan's decision before the US Court of Appeals for the DC Circuit, but "also are prepared to litigate and feel confident of success in the Southern District of New York."
I'm sure this can only be explained by some dark conspiracy that Klayman will unveil at one of his "citizen grand juries" where they play dressup and pretend to actually be handing down indictments. It can't possibly be because Klayman is a terrible lawyer or anything.