Christian TV evangelist and con artist Kenneth Copeland got an invitation to dine with Donald Trump at the White House prior to the National Day of Prayer. Copeland is a prosperity gospel preacher, as are a great many of the "spiritual advisers" that Trump surrounds himself with. This is hardly a surprise.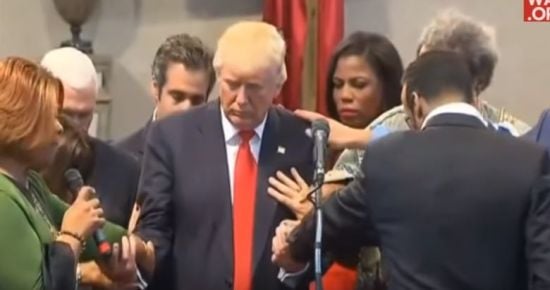 Kenneth Copeland, the prosperity gospel preacher whose lavish tax-exempt mansion-and-private-jets lifestyle has been the subject of an (ineffective) congressional investigation and serious mockery by late-night comedian John Oliver, was among the Religious Right leaders who dined with President Donald Trump at the White House Wednesday night on the eve of National Prayer Day. Copeland's attendance at the White House dinner was reported by the Christian Broadcasting Network.

Prosperity gospel preachers—most visibly Trump's "spiritual adviser" Paula White—teach that wealth is a sign of God's blessing. (White recently encouraged people to unlock a set of special Passover blessings, to include God assigning them an angel, by sending her money.)
Why is this not surprising? First, because they are all con artists. Second, because Trump is essentially a secular prosperity gospel preacher himself. That's what Trump University was — send me money and I'll make you rich by allowing you in on the "secrets" of my wealth. The main secret being to inherit $200 million from your father and then brand yourself as the very paragon of wealth and taste (gag). Same thing, slightly different package.