E.W. Jackson, who nearly became Lt. Gov. of Virginia, is defending twice-defrocked judge Roy Moore's well-documented penchant for teen girls in his 30s by comparing him to Joseph pursuing Mary when she was a teen.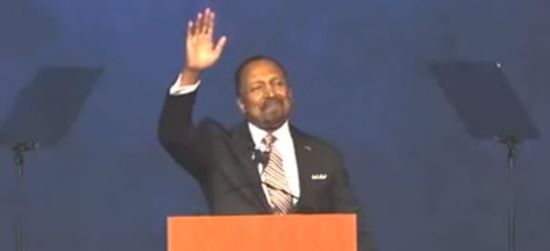 "Jones is only a senator because of the vicious attacks against Judge Roy Moore," Jackson said as he fumed that Democrats would dare to attack someone like Moore, who had served in the military. "He comes home from the military and is looking to date, is looking to get married and nothing untoward, that we've heard; parents fully involved." (Actually, Becky Gray, the woman who said she got Moore banned from the mall, was 16 at the time she said he sexually harassed her during her shifts at a department store there, and her parents were not involved, according to an account she gave to ABC News.)

"These things shift and change culturally," he added. "Because Mary, based upon our best guesses—given the age at which young girls would marry during that time and become betrothed—Mary was probably somewhere between the age of 15 and 17 years old. Somewhere in there. But, of course, she was a very spiritually mature woman, young lady, who was used mightily by God."

"So this man comes home and he dates girls and some of them are young—yes, some of them are young," Jackson concluded. "But suddenly, they want to turn him into a pedophile."
As if Sasha Baron Cohen hadn't found Moore to be a pedophile.