Donald Trump, whose penchant for hiring only the very best people has reached legendary status (meaning it exists only in his head). But the pattern has become so obvious as to be laughable. When he hires you, you're the greatest person ever; when he fires you, he never really liked you in the first place: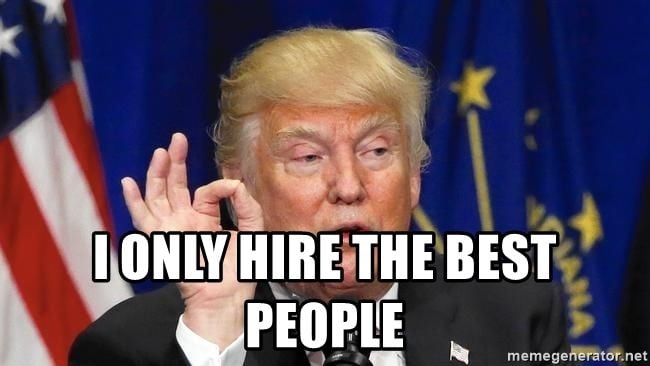 Steve Bannon

Before: "Steve [Bannon] and Reince [Priebus] are highly qualified leaders who worked well together on our campaign and led us to a historic victory." (11/13/16)

After: "Sloppy Steve Bannon […] cried when he got fired and begged for his job. Now Sloppy Steve has been dumped like a dog by almost everyone. Too bad!" (1/5/18)
And the hits just keep on coming.
Gary Cohn

Before: "Gary Cohn is going to put his talents as a highly successful businessman to work for the American people." (12/12/16) "We're honored to have Gary, the president the Goldman Sachs who left Goldman Sachs to do this." (12/14/16) "He is a rare talent, and I thank him for his dedicated service to the American people." (3/6/18)

After: "Gary Cohn, I could tell stories about him like you wouldn't believe. Gary Cohn never thought we could ever make this deal with Mexico and never thought in a million years we could make this deal with Canada." (10/11/18)

Don McGahn

Before: "Don has a brilliant legal mind, excellent character and a deep understanding of constitutional law." (11/25/16)

After: "Never a big fan!" (5/11/19)
I'm just baffled that anyone does not view him as a buffoon.