During his visit to Japan to meet with Prime Minister Shinzo Abe, Trump flat out lied when asked about recent ballistic missile tests carried out by North Korean dictator Kim Jong-Un. After initially acknowledging the missile tests, Trump then did a 180 and claimed that there was no such test.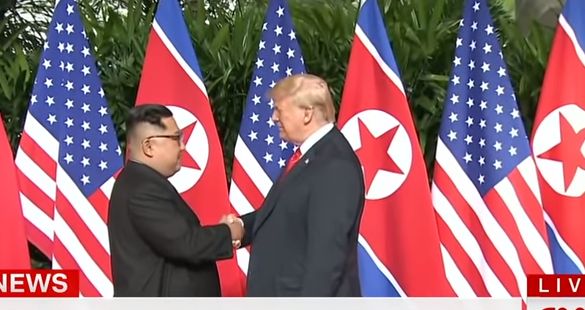 President Donald Trump is isolating himself from allies and even his own advisers on North Korea, eager to insist that his denuclearization efforts will be successful going into a 2020 re-election bid.

The widening gap was starkly apparent Monday morning, when Trump publicly disagreed with Japanese Prime Minister Shinzo Abe during a joint press conference when asked about recent North Korean missile tests.

Abe had previously called the tests of several short-range ballistic missiles "quite a regrettable act" that violated a United Nations Security Council resolution, echoing language that Trump's own national security adviser, John Bolton, had used on Saturday.

But the president on Monday, at the end of his short trip to Japan to meet the new emperor, insisted that he was not "personally" bothered by the tests and was "very happy with the way it's going" in his efforts to engage North Korean leader Kim Jong Un. Notably, Trump said he did not think the tests violated the U.N. resolution.

"My people think it could have been a violation," Trump said. "I view it differently."
Because the evidence shows otherwise? Of course not. It's just not convenient for him anymore, so it magically becomes untrue. As always, reality and the facts simply could not be less relevant to him. If it's useful, it's true; it it isn't, it's not true. Welcome to the post-fact world. Don't want to blame Putin for election interference? Voila! He has nothing to do with it, it was some 400 pound guy in his statement.