Laura Ingraham on her Fox News show this week complained about social media cites censoring "prominent voices" like white supremacist and anti-Semite Paul Nehlen. When called out for defending Nehlen, Ingraham offered one of the most bizarre, disingenuous arguments I've ever heard on any subject.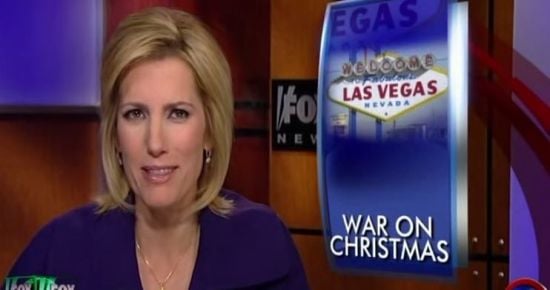 Ingraham's response came after CNN's Jake Tapper and Chris Cuomo called out the Fox host for complaining on her Thursday night show that "prominent voices" like Nehlen have been banned on social media. Nehlen recently called for a race war that would eradicate Jews and Blacks. Tapper's response included examples of Nehlen drawing up lists of his Jewish media critics.
And her bewildering response:
Retweeting screenshots of despicable old tweets by racists and/or anti-semites must make those racists & anti-semites very happy. Unfortunately it does zero to elevate the debate in America. cc. @CNN

— Laura Ingraham (@IngrahamAngle) May 31, 2019
Okay…I got nothing. Apparently it's okay to defend neo-Nazis but not okay to reveal their neo-Nazi views. Doing the latter makes them "very happy." Baffling.