Last week Hugh Rodham, brother of Hillary Rodham Clinton, died at the age of 69. "Coach" Dave Daubenmire apparently thinks that Hillary and the "deep state" she controls had him killed, or least that is what he hinted at when he announced that he and his little gaggle of morons are going back to Clinton's Chappaqua home to demand, for the third time, her arrest.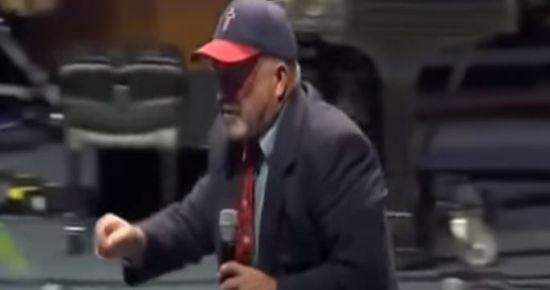 Daubenmire reported that organizers intend to reach out to these members of Congress (some of whom were defeated in 2018 or elected to other positions) in coming days and invite them to participate in their upcoming event in Chappaqua.

"I know that we are striking the right target, no matter what anybody else says," Daubenmire said. "Did you notice that Hillary's brother died? Have you noticed a string of—how do I say this?—suspicious deaths as the deep state begins to get exposed?"

"She is the hub, don't let there be any mistake about it," he added. "She is going to come down and so are many more around her … Those of us that have eyes to see understand like a laser beam that the Lord is honoring what we're trying to do here, folks."
Yeah, how "suspicious" that a 69 year old man would die. That never happens, amirite? Notice that he doesn't even attempt to give a reason why Hillary or the "deep state" would want him gone? Even ridiculous conspiracy theories have to have some sort of motive, right? Rodham had been in private practice as an attorney, out of the public eye, for nearly 20 years. But hey, Daubenmire can add that to their list of inane reasons why Hillary should be arrested and put in jail, for murdering her brother for no apparent reason.