In the wake of the news that Kim Jong-Un had his own brother killed — something he has done quite regularly with other close relatives, and after receiving another "beautiful" letter from North Korean dictator, Donald Trump took his side and told him publicly that he would not have allowed the CIA to develop his brother as an asset.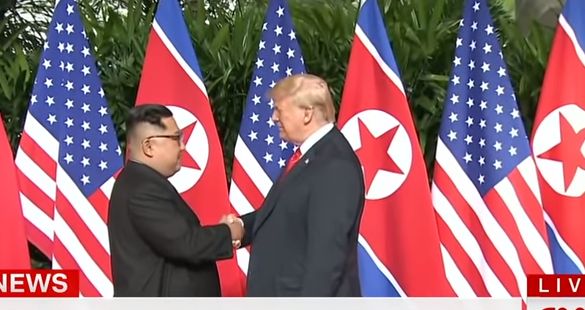 Two accounts, a new book by the Washington Post reporter Anna Fifield and a Wall Street Journal story, report that Kim's brother Kim Jong Nam was a CIA informant. Kim Jong Nam was killed in a shocking chemical-weapons attack in the Kuala Lumpur airport in February 2017. Trump was asked about the revelation as he left the White House for a trip to Iowa, and his answer was jarring.

"I see that, and I just received a beautiful letter from Kim Jong Un," Trump said. "I think the relationship is very well, but I appreciated the letter. I saw the information about the CIA with regard to his brother or half brother, and I would tell him that would not happen under my auspices. I wouldn't let that happen under my auspices. I just received a beautiful letter from Kim Jong Un."…

American officials often avoid discussing sensitive stories like this with the press, and one reason for that caution became clear as Trump continued. The context of his remarks makes clear that what Trump "wouldn't let … happen" is not Kim Jong Nam's killing, but his cultivation as an American asset. Trump has said that former President Barack Obama described North Korea as the nation's greatest foreign-policy challenge, and Trump has taken that cue, making it a major priority. By saying he wouldn't allow American intelligence to cultivate an asset so close to Kim, he's saying he wouldn't use spying to better understand the country's biggest overseas challenge.

Put another way, he's ruling out having the best information possible headed into high-stakes negotiations. Tying one hand behind your back like this makes sense only if you have a messianic belief in your own negotiating prowess—which Trump does, despite the collapse of the most recent round of talks.
Imagine being someone else in some secretive country around the world who is either already working with our intelligence services or being recruited to do so. Trump is telling them all that he would sell them down the river in a heartbeat. At every turn, Trump sides with brutal dictators against the United States and our national security needs.