Trump announced on Twitter that White House Press Secretary Sarah Huckabee Sanders is stepping down at the end of the month. Good riddance to terrible liars. They haven't announced a replacement, but I hope they being back Mooch from his one week stint as communications director. Stepping down hardly seems worth it; she hasn't held a press briefing in three months anyway.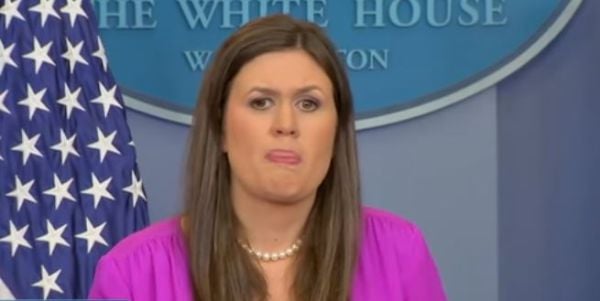 ….She is a very special person with extraordinary talents, who has done an incredible job! I hope she decides to run for Governor of Arkansas – she would be fantastic. Sarah, thank you for a job well done!

— Donald J. Trump (@realDonaldTrump) June 13, 2019
In Trumpworld, being a "very special person" means being willing to lie constantly on his behalf. And she certainly did that. On second thought, forget Mooch. I hear the original Baghdad Bob is looking for work.
Sanders then tweeted:
I am blessed and forever grateful to @realDonaldTrump for the opportunity to serve and proud of everything he's accomplished. I love the President and my job. The most important job I'll ever have is being a mom to my kids and it's time for us to go home. Thank you Mr. President! https://t.co/wHNnq06AMg

— Sarah Sanders (@PressSec) June 13, 2019
She's gonna have a terrible time finding another job, like nearly everyone else who has left the Trump administration. I suspect she's untouchable even in Republican politics.