During the 2016 campaign, Trump said that anyone who burns an American flag — you know, all four of them in the entire country over the last few decades– should be stripped of their citizenship and be put in jail. Now two Republicans have proposed yet another bill to make flag burning illegal and he's endorsing it on — where else — Twitter: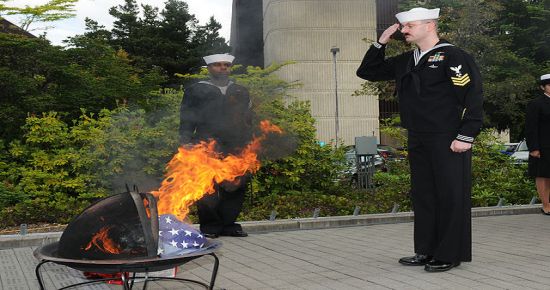 Sen. Steve Daines (R-Mont.) and Rep. Steve Womack (R-Ark.) reintroduced companion legislation in the Senate and House on Friday, which was Flag Day, to restore "Congress's constitutional authority to ban the desecration of the United States flag."

Forty-eight states had laws against flag burning until the 1989 Texas v. Johnson Supreme Court decision ruled that the act was protected under the First Amendment's freedom of speech clause.

Trump has frequently cited the flag as a symbol of national pride, at times even embracing flags at rallies when he appears on stage.
Seeing him hug a flag is one of the most ridiculous things he's done — and imagine the competition for that title. His endorsement:
All in for Senator Steve Daines as he proposes an Amendment for a strong BAN on burning our American Flag. A no brainer!

— Donald J. Trump (@realDonaldTrump) June 15, 2019
Coincidentally, No Brainer is the Secret Service's code name for him. And he's right, it is definitely a no-brainer. Only a dyed-in-the-wool moron would agree with it, or a pure demagogue, which is what Trump is. I wonder if that includes the military, which disposes of flags by burning them. The U.S. Flag Code actually requires that as a disposal method for old flags. Of course it doesn't include that, though, it only includes those who burn a flag in protest. And that is undeniable proof that the sole reason for banning it is to criminalize the expression of ideas he doesn't like.
You know who else thought laws banning flag burning are unconstitutional? The man Trump has declared his favorite Supreme Court justice, Antonin Scalia.